itSMF UK will be holding its annual conference and exhibition at the Sofitel Heathrow in London from the 21st to the 22nd of November. With an overarching theme of "Professionalism in ITSM," the conference provides a series of educational presentations, numerous networking opportunities, and the chance to speak with over 40 IT service management (ITSM) vendors and partners.

The Lowdown
This year's conference is split over four learning tracks:
ITSM Fundamentals – covering the classic ITSM topics such as incident and problem management
Leading Edge ITSM – looking at other ideas and approaches such as DevOps and SIAM
People Make ITSM – covering the human elements of ITSM, such as communication and leadership
Enterprise Service Management – looking at how to integrate and manage ITSM with other non-IT areas
Split over two days, there's a wide selection of presentations to choose from, including sessions from our ITSM.tools analysts and associates:
Ivor Macfarlane – Intelligent Disobedience, a Service Dog Concept Relevant to Service Management
Stuart Rance – Unhappy is the Land That Needs a Hero
Stephen Mann – Enterprise Service Management: Its Time to Share ITSM Best Practices Outside of IT
I also recommend these:
There's also a host of end-user presentations. You can view the full agenda here.
With Barclay Rae at the helm, this year's itSMF UK event promises to be a reinvention of the UK ITSM conference scene. Expect a focus on real-world best practice and on the realization of business value.
Event Overview:
WHAT: itSMF UK Conference
WHERE: Sofitel Heathrow
WHEN: 21st – 22nd November 2016
WHO: itSMF UK
HOW TO BOOK: Click Here
I will be attending from ITSM.tools, along with Stephen Mann, Ivor Macfarlane, Stuart Rance, Rebecca Beach, Vawns Murphy, and Duncan Watkins. 
Let us know in the comments section if you're planning on attending too, and don't forget to follow the Twitter stream via #ITSM16.
Also, whether you're planning to attend the conference or not, don't miss out on the pre-conference networking. With drinks sponsored by itSMF UK and an optional dinner (at individual expense), this "meet up" of ITSM professionals, consultants, and vendors offers a great opportunity for some informal "gossiping" about all things related to service management. The networking is open to all, simply register your attendance on Facebook here.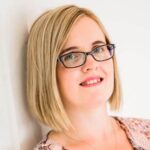 Sophie is a freelance ITSM marketing consultant, helping ITSM solution vendors to develop and implement effective marketing strategies.
She covers both traditional areas of marketing (such as advertising, trade shows, and events) and digital marketing (such as video, social media, and email marketing). She is also a trained editor.