I've just seen yet another cake-based, celebratory social media post in my time line. You know the sort – a big "hooray," pats on backs all round, and the photo of an IT service management (ITSM) tool "go-live cake."
Don't get me wrong. This is certainly a cause for celebration, and I do like cake, but I think that it's important to understand exactly what you are celebrating.
Here's my cautionary tale.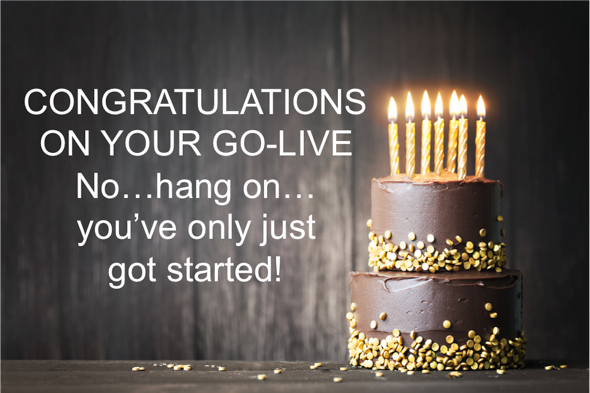 After the afterparty
Now I might be ready to join GrOMIT (the GRumpy Old Men in IT). But far too often I've seen service desk or ITSM tool implementation, improvement, or transformation projects go-live for then, almost immediately, a bunch of "stuff" to happen:
The implementation/project team is disbanded
All financial backing is dropped or concluded
Ownership is "thrown over the fence" to IT operations
Now not all of these are bad things per se, and things can still work out well. However, more often than not (in my experience), the IT operations team weren't sufficiently involved in the project and "build." So, ownership of the new technology, and potentially ways of working, can be a little forced rather than embraced.
Then if post-live changes are required, as you probably won't get everything right first time, the builders have moved on elsewhere. Which means that either the operations team are left to make modifications with little experience, cue a cake that's like the Leaning Tower of Pisa, or they need to call in help. Oh hang on, they can't do that because the project budget is all spent.
Unfortunately, I've seen service desk and ITSM tool projects go from award winning to a total mess within the space of a couple of years for exactly these reasons.
Planning, delivering, and then celebrating "half a job"
What concerns me more these days is that core service desk functionality is now just a starting point, and I'm not so sure that everyone takes this into account when planning their implementation, improvement, and transformation projects.
The service desk itself can be expanded beyond the initial implementation, think service catalog, IT asset management (ITAM), security, capacity planning, and a wealth of other beneficial ITSM capabilities. Then there's the potential to utilize process automation across the enterprise – with human resources (HR) and facilities two popular targets.
The whole story becomes one of strategic planning for added business benefits.
Think big, or at least think bigger
So, if you have a service desk or ITSM tool implementation project don't treat it in isolation, make it a part of an on-going continual service improvement (CSI) plan; keep your project team together (or at least a subset of it) to explore, define, and deliver additional future benefits; and budget accordingly.
The same is true if you are benefiting from third-party assistance. Think beyond the initial go-live and the cake eating. If you're working with a tool-vendor partner, beyond choosing them wisely and then getting your service desk up-and-running quickly, look for a partner that wants to work with you in a strategic, long-term relationship. Importantly, where your business requirements drive the program.
Plus, this relationship's mantra shouldn't be: arrive, implement, eat cake, say goodbye. And, likewise, a service desk or ITSM tool go-live, and now seemingly obligatory cake, doesn't signify the end of a journey – it's just the start!
With hindsight, maybe wanting to "ban the cakes" is a little draconian. Perhaps we just need to act a little less like we've accomplished the unachievable and more like we're merely pausing for breath before setting off on our continued journey of ITSM improvement.
So, plan for longer-term needs and benefits rather than just up to the point of all that cake eating. And this applies if going it alone or using third-party assistance in the form of tool-vendor partners.  
Plus, if you're hoping to benefit from these partners, and their previous customer successes, it500 is running a ServiceNow Partner Showcase in Edinburgh on the 25th May 2017. At which you can speak with them about how partners can help. Find out more at www.it500.solutions