Earlier this year, ITSM.tools ran its first survey related to IT service management (ITSM) "future readiness" or the Future of ITSM to gauge ITSM-pro opinions on where we are and where we're possibly going. The poll was closed at the start of June and the associated report written, with it now being sponsored and made available (ungated) by the very kind people at ManageEngine.
You can:
Download the ITSM.tools version of the report here
See the online version of the report here
Download a PDF version of the ManageEngine-designed report here
It's all the same data, and words, just different delivery mechanisms.
I urge you to read the full report, in any of its forms, but if you're time-strapped for now – please read on for a very abridged version.
What you need to know about the Future of ITSM survey and report
The survey and report cover ten questions across five different areas:
Working in IT
The impact of politics on IT staffing
New technology
Best practice, and
Meeting service expectations.
And the Future of ITSM report discusses each survey result in terms of the possible causes and what it means.
Some of the key survey findings
This is a cheeky "lift" from the Future of ITSM Report's introduction:
"The key survey findings, from 323 responses, include that:
82% of respondents believe that working in IT will get harder over the next three years, and only one in four respondents feel that their efforts and value are sufficiently recognized by management
Nearly two-thirds of respondents think that the current local and global political climate is adversely affecting IT recruitment
Just 16% of respondents view the adoption of artificial intelligence (AI) capabilities as a serious job killer in IT
Only 24% of respondents think that existing ITSM best practice has kept up with the changing IT and business landscapes
70% of respondents think that there has been insufficient involvement of ITSM personnel in their company's DevOps activities and ambitions
77% of respondents think that there is still more to be done to meet the expectations of Millennial employees.
Greater detail on each of these can be found in the main body of the report."
Future of ITSM – Working in IT (a report extract)
Working in IT can be a challenge no matter your role. The corporate mandate for IT departments to "do more with less" has been prevalent for at least a decade; with IT skills shortages, increasing technology and business complexity, security issues, and other things all adding to the challenge. So, is "IT life" getting harder? And how are the people working in IT recognized, and hopefully rewarded, for going the extra mile in their roles?
To get answers to these questions, the first survey question asked: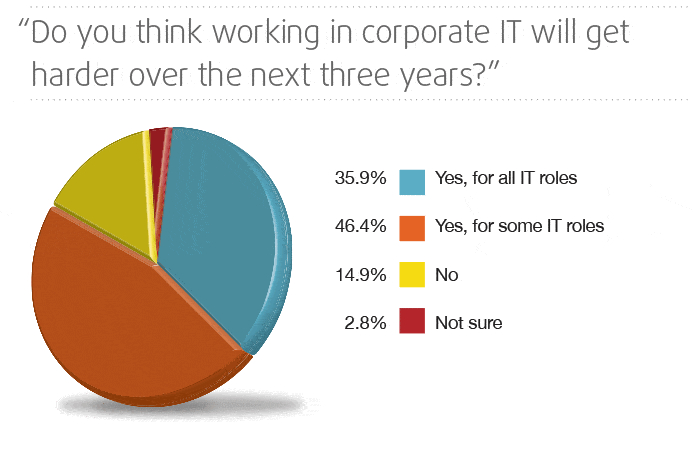 With a total of 82% of respondents believing that working in IT will get harder over the next three years. Only 15% of survey respondents didn't think that their life would get harder.
As to why there's a higher response for "Yes, for some IT roles" than "Yes, for all IT roles" – this might reflect that some IT roles are getting harder, or it might just be the very-human assumption that "the grass is always greener on the other side of the fence." With respondents thinking that they're in a particularly difficult role versus their peers.
For instance, service desk agents are usually under far greater scrutiny (and pressure) in terms of performance metrics and targets than most other, if not all, IT roles. Whereas in some areas, such as the management of legacy IT systems, roles might be viewed as being under less pressure and less likely to change.
The second question then asked: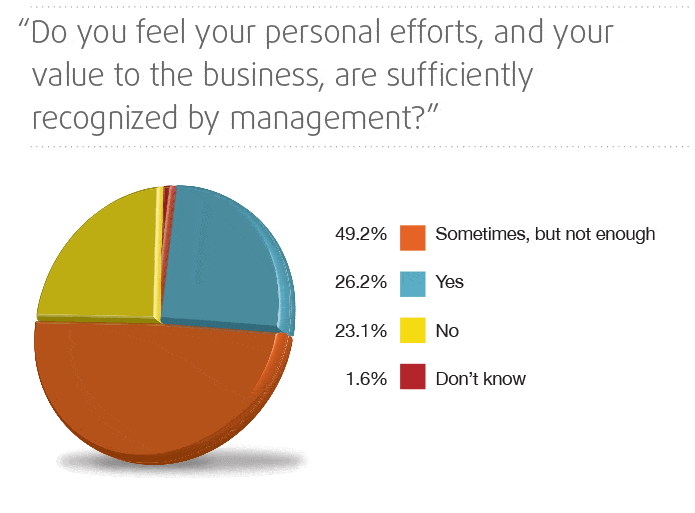 One quarter of respondents felt that their efforts and value are sufficiently recognized by management. Leaving two in four people thinking that they do get recognized but not enough, and one in four thinking that they don't get recognized for their work; giving a total of 75% respondents who feel undervalued. This compares unfavorably with a recent US survey that showed 47% of workers feel underappreciated.
Want to know more? Then please read the report for additional stats and opinions across the other four topic areas.
So, what do you think of the Future of ITSM survey findings (I suggest that you look to the report detail before offering comments)? Please let me know in the comments.
Thank you again to ManageEngine for sponsoring the Future of ITSM report, and our second survey – called "How Well Does IT Know the Business?" – is live and will be promoted soon.
If you want more content like this, including on ITIL, please subscribe to our monthly email. Or follow ITSM.tools or Stephen Mann on Twitter.
Do you want the latest Gartner ITSM Magic Quadrant for free?
You might also like this article on service availability or availability management.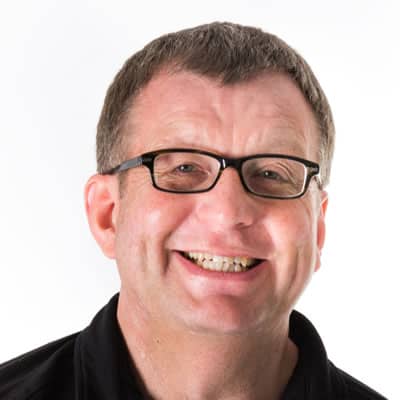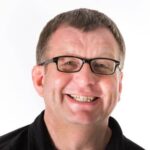 Principal Analyst and Content Director at the ITSM-focused industry analyst firm ITSM.tools. Also an independent IT and IT service management marketing content creator, and a frequent blogger, writer, and presenter on the challenges and opportunities for IT service management professionals.
Previously held positions in IT research and analysis (at IT industry analyst firms Ovum and Forrester and the UK Post Office), IT service management consultancy, enterprise IT service desk and IT service management, IT asset management, innovation and creativity facilitation, project management, finance consultancy, internal audit, and product marketing for a SaaS IT service management technology vendor.