Let's talk about ITIL or, more specifically, ITIL 4. We now live in such a fast-paced and ever-changing world that both businesses and individuals need to be more agile, constantly ready, and equipped with the right skills in order to survive. The Fourth Industrial Revolution has brought digital disruption and new technologies with it, and one consequence is the need to adopt and accept new ways of working. For us at Axelos, one consequence of the Fourth Industrial Revolution is ITIL 4 – an update to ITIL v3 (2011 Edition) – that will help organizations, IT service management (ITSM) professionals, and others working in the digital world tackle the challenges brought on by digital disruption. Please keep reading for ITIL 4 explained (please note that it's not ITIL V4!).
What's new in ITIL 4?
ITIL 4 still includes those elements from previous versions of ITIL that remain very much fundamental to service management and ITSM. But it also provides a new digital operating model – a basis that's both practical and flexible, which is designed to help organizations on their digital journey. Plus, the impact of technology on business, and the integration of ITIL best practices with Agile, DevOps, and digital transformation all play a role in the new framework.
The key elements of ITIL 4 are the four dimensions, the guiding principles, the move from processes to practices, and the ITIL service value system (SVS).
ITIL 4 puts service management into a strategic context by looking at ITSM, development, operations, business relationships, and governance holistically. And because ITIL 4 brings these different functions together it has evolved into an integrated model for digital service management.
The ITIL 4 service value system
The service value system is a key part of ITIL 4 and facilitates value co-creation. It shows how all the components and activities of an organization work together for the creation of value. The ITIL 4 service value system has interfaces with other organizations, and thus forms an ITIL ecosystem through which it can create value for those organizations, their stakeholders, and customers.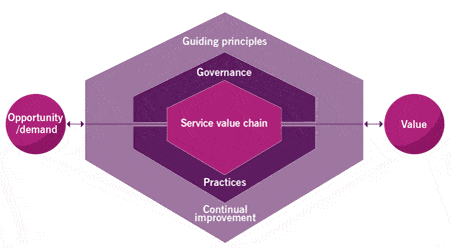 The ITIL service value chain is the centerpiece of the ITIL 4 service value system. It's a flexible operating model for creating, delivering, and continuous improving of services. There are six key activities within the ITIL service value chain: plan; improve; engage; design and transition; obtain/build; and deliver and support. These activities can be combined in different sequences. Therefore, the ITIL 4 service value chain allows an organization to define a number of variants of value streams, such as the service lifecycle from ITIL v3.
As the ITIL 4 service value chain is flexible, it means that an organization can effectively and efficiently react to changing demands from stakeholders.
The four dimensions
ITIL 4 is all about a holistic approach to service management. Because of this, the framework defines four dimensions that are critical to creating value for stakeholders, including customers.
These four ITIL dimensions are
Organizations and people – the corporate culture needs to support an organization's objectives, and the right level of staff capacity and competency.
Information and technology – within the ITIL 4 service value system, this refers to the information, knowledge, and technologies that are needed for the management of services.
Partners and suppliers – the suppliers that are involved in the design, deployment, delivery, support, and continual improvement of services and their relationship to the organization.
Value streams and processes – are the different parts of the organization working in an integrated and coordinated way? This is important to ITIL for the creation of value through products and services.
An appropriate amount of focus needs to go into each of these dimensions such that the ITIL 4 service value system remains balanced and effective.
ITIL 4's guiding principles
The guiding principles are not new. ITIL 4 now has seven (rather than the previous nine), which are meant to help IT professionals adopt and adapt the framework to their own needs and circumstances. The ITIL guiding principles should be followed at every stage of service delivery and enable professionals to approach and navigate difficult decisions.
The seven ITIL 4 guiding principles are:
Focus on value
Start where you are
Progress iteratively with feedback
Collaborate and promote visibility
Think and work holistically
Keep it simple and practical
Optimize and automate.
While simple, these ITIL 4 guiding principles can be a very powerful tool for focusing ITSM capabilities on the right things.
From ITIL processes to ITIL 4 practices
ITIL has previously used "processes" to manage IT services. ITIL 4 expands the processes into "practices." These share the same value and importance as the previous ITIL processes. Through the processes, elements such as culture, technology, information, and data management can be considered to get a holistic vision of the ways of working.
The ITIL 4 service value system includes 34 management practices. They are sets of organizational resources for performing work or accomplishing an objective.
ITIL 4's 34 management practices
The 34 ITIL4 management practices are:
ITIL 4 General Management Practices
Architecture management
Measurement and reporting
Portfolio management
Project management
Risk management
Service financial management
Strategy management
Supplier management
Workforce and talent management
ITIL 4 Service Management Practices
Business analysis
Capacity and performance management
Monitoring and event management
Release management
Service configuration management
Service continuity management
Service design
ITIL 4 Technical Management Practices
Deployment management
Infrastructure and platform management
Software development and management
From ITIL v3 to ITIL 4
ITIL 4 will help IT professionals compete in an increasingly complex market and ensure that they stay relevant. Start building your career with ITIL or get reaccredited from ITIL v3 to demonstrate your digital skills and meet your career goals. It's only a small step from ITIL v3 to ITIL 4, but it will be a big step for your career.
The ITIL 4 qualifications
ITIL 4 Foundation certification is the entry-level ITIL qualification; this involves a multiple-choice examination (as do the other qualifications). The higher-level ITIL 4 qualifications build on the knowledge gained in the ITIL 4 Foundation certification training and provide more in-depth knowledge in specific areas of ITSM.
Initially, three higher-level ITIL qualifications were launched in 2020:
ITIL 4 Managing Professional: This certification provides the knowledge to run digitally-enabled business functions, including how to create stakeholder value. The ITIL 4 Managing Professional certification requires candidates to complete the Foundation module plus four higher-level module exams – ITIL Specialist: Create, Deliver & Support; ITIL Specialist: Drive Stakeholder Value; ITIL Specialist: High Velocity IT; and ITIL Strategist: Direct, Plan & Improve.
ITIL 4 Strategic Leader: This certification provides the knowledge needed to strategize, plan, and achieve optimal value from digitally-enabled products and services. The ITIL Strategic Leader certification requires candidates to complete the Foundation module plus two higher-level module exams – ITIL 4 Strategist: Direct Plan & Improve; and ITIL 4 Leader: Digital & IT Strategy.
ITIL Master: The ITIL Master certification is the highest level of ITIL 4 certification and is designed for experienced ITSM professionals with a deep understanding of ITIL concepts and practices. To achieve this certification, candidates must demonstrate their ability to apply ITIL principles and practices in complex real-world situations. Once candidates have completed all the Managing Professional and Strategic Leader certification modules, they qualify for the "ITIL Master" designation. This designation was the ITIL Expert in ITIL v3. However, candidates must also demonstrate at least five years' experience working in suitable roles across service management leadership, management, or management advisory roles.
These initial ITIL 4 qualifications have since been supplemented with the following four new ITIL Specialist certifications:
Acquiring & Managing Cloud Services: This ITIL 4 qualification is for anyone requiring user-centric guidance on how cloud procurement and technology can integrate with and support broader business strategy and functions.
Business Relationship Management: This ITIL 4 qualification is for IT professionals establishing and nurturing the relationships between service providers and consumer organizations, and their stakeholders.
IT Asset Management: This ITIL 4 qualification is for IT professionals managing costs and risks, monitoring and ensuring compliance, and good governance of IT assets.
Sustainability in Digital & IT: This ITIL 4 qualification is for anyone looking to understand the role IT and digitally enabled services have in relation to the environment while exploring opportunities to impact it positively.
Changes to the ITIL 4 certifications in 2023
In 2023, the available ITIL 4 qualifications were added to through the ITIL Practice Manager Certification, where the existing Create, Deliver and Support exam can be supplemented by the new practice-based certifications as shown below.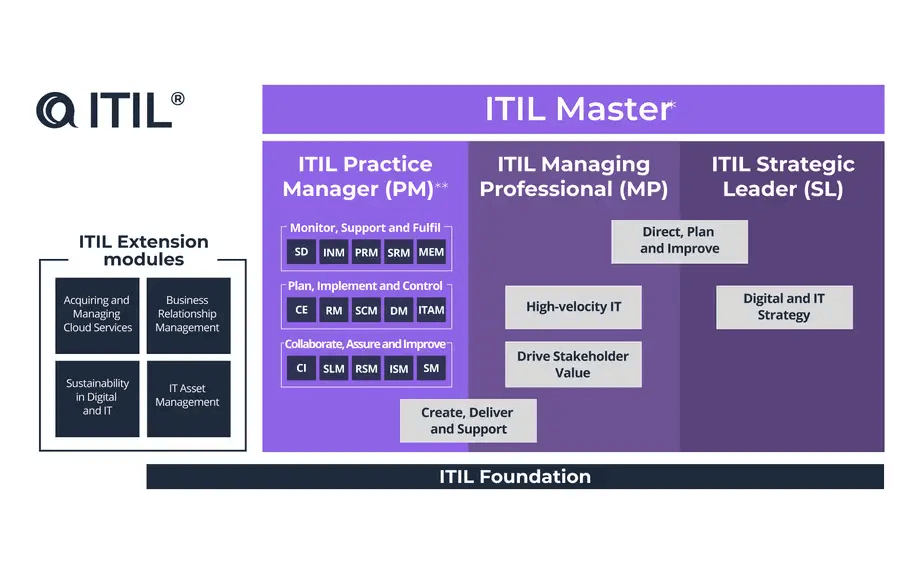 This new ITIL 4 qualification offers an additional level of progression for ITIL 4 Foundation Certification holders because they can gain a manager-level certification aligned to their preferred service management area or practices:
Monitor, Support and Fulfil – service desk, incident management, problem management, service request management, and monitoring and event management
Plan, Implement and Control – change enablement, release management, service configuration management, deployment management, and IT asset management
Collaborate, Assure and Improve – continual improvement, service level management, relationship management, information security management, and supplier management.
This new ITIL 4 qualification can help people to plot a career path. For example, a service desk analyst holding the ITIL 4 Foundation Certification could then obtain the ITIL Practice Manager Certification by focusing on the five Monitor, Support and Fulfil practices.
This 2019 ITIL 4 article was updated in 2023, including the addition of the ITIL 4 qualification details.
If you liked this ITIL 4 article, the following ITIL 4 articles are also very popular with ITSM.tools readers:
If you can't find anything helpful here, please use the site's search capability to find more interesting ITSM and ITIL 4 articles.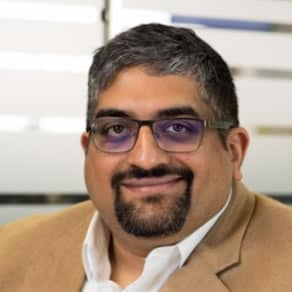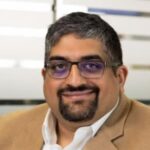 Akshay Anand is a seasoned ITSM professional, with over 20 years of experience delivering projects and running service management teams across India, UK, and the US. Recently, he served as a Lead Architect and author for the ITIL 4 body of knowledge and was the Product Ambassador for ITIL 4 from 2018-2021. He is a Principal Solutions Engineer at Atlassian working across Sales, Product Development and Product Marketing to promote solutions based on Jira Service Management.   He is also a recognised blogger and podcaster, passionate about bringing Lean and Agile practices into IT Service Management, as well as promoting mental wellbeing and human-centred ways of working. He can be occasionally spotted tweeting as @bloreboy.