Let's talk about ITIL. If you feel left out because your colleagues are talking about this IT service management (ITSM) concept called ITIL or if you are considering certification. This article has been written to offer you as much insight as possible in a short time. From what it is to the key elements that comprise the latest service management best practice guidance.
Let's start with what ITIL is.
What ITIL is
ITIL is officially described as:
"…the most widely recognized framework for IT and digitally enabled services in the world. It provides comprehensive, practical and proven guidance for establishing an effective service management system."
But up until 2019, the previous versions were branded as ITSM best practice, with ITIL described as the most popular framework of ITSM best practices globally.
The change is because ITIL can be applied outside of IT, too. This application is through the corporate adoption of "enterprise service management" strategies. This approach is:
"using ITSM principles and capabilities in other business areas to improve performance, services, experiences, and outcomes."
The ITIL naming has changed too. Before v3 in 2007, it was an acronym for "IT Infrastructure Library." However, now it simply means "ITIL," and the use of the longer-form version should be considered either a cause for concern over author knowledge or an ill-informed use for SEO purposes.
This article by @SophieDanby has been written to offer you as much insight into ITIL 4 as possible in a short time. From what it is to the key elements that comprise the latest #ITIL4 service management best practice.
Click To Tweet
What ITIL isn't
A key aspect is to understand that this is guidance, not a standard. Therefore, it cannot be "complied with." Nor can ITSM tools be "ITIL-compliant." These ITSM tools are, at best, ITIL-aligned.
It doesn't offer certifications for organizations. Instead, it's only available for individual certification, with people then applying what they've learned within their organizations to improve operations and outcomes. More recently, though, Axelos has introduced an ITIL Maturity Model and Assessment where "An Axelos endorsement is available for each assessment and provides an independent verification of the rating achieved. This acts as a formal confirmation of the organization's ability to perform as an effective service provider and supports organizations in differentiating themselves for bids and request for proposal (RFP) responses."
ITIL isn't a set of ITSM processes. Although, traditionally, it has too often been viewed this way. The new version addresses the process bias by replacing v3's 26 processes with 34 "management practices." It defines these practices as:
"…a set of organizational resources designed for performing work or accomplishing an objective."
These are returned to later.
How the service management guidance is created
ITIL is IT-industry-curated good practice. However, it's not open-source content. Instead, it's the intellectual property (IP) of Axelos – "a joint venture company, created in 2013 by the Cabinet Office on behalf of Her Majesty's Government (HMG) in the United Kingdom and Capita plc, to manage, develop and grow the Global Best Practice portfolio."
In 2021, Axelos was acquired by PeopleCert, "the sole Examination Institute for the delivery of Axelos Accreditation and Examination services worldwide."
In the Foundation publication, despite the "beyond IT" focus, Axelos also defined ITIL as:
"…the most widely used guidance in the world on IT service management"
"best-practice guidance for IT service management."
ITIL's three-decade history
The ITSM best practice framework emerged in 1989 as the UK Government sought a solution to its IT-project-related issues. It grew in popularity during the 1990s, but the second version, published in 2001, saw its adoption rocket. This version is commonly called ITIL v2.
The third version, commonly called ITIL v3, was published in 2007. This version was "refreshed" in 2011, with a name change. More recently, Axelos has referred to this as ITIL v3 (2011 Edition). v3 was a significant shift from v2. It was 2.5x the size of v2 with 26 processes across five elements of a "service lifecycle":
Service strategy
Service design
Service transition
Service operation
Continual service improvement (CSI).
ITIL 4 was introduced in February 2019. This release was the Foundation publication and certification, with higher-level certifications introduced a year later in 2020. Its content is covered in more detail later.
Here @SophieDanby looks at what ITIL is and isn't, it's three decade history, and ITIL versus ITSM. #ITIL #ITIL4 #ITSM
Click To Tweet
ITIL versus ITSM
Before ITIL 4's move from ITSM to service management, the easiest way to differentiate between the two was that the best practices involve ITSM, but not all ITSM best practices are ITIL. So, it is not the only best practice approach organizations can employ to deliver better ITSM operations and outcomes.
In fact, there are many other sources of ITSM and service management best practices, including:
COBIT – "A framework for the governance and management of enterprise information and technology, aimed at the whole organization."
FitSM – A free "lightweight" standard for ITSM.
ISO/IEC 20000 – An international standard to "establish, implement, maintain, and continually improve a service management system."
IT4IT – A "tool for aligning and managing a Digital Enterprise." It's an Open Group standard.
VeriSM – "A service management approach for the digital age that helps service providers to create a flexible operating model to meet desired business outcomes."
The ITIL 4 move from ITSM to service management made it both easier and more challenging to differentiate between the two. Now that it is service management focused, it covers far more than just ITSM. But for some organizations, it will only ever be used for ITSM, and, as such, the need to differentiate them is still important:
ITIL is service management best practice
Not all service management best practice is ITIL
Not all service management is ITSM.
What changed in ITIL 4?
The key changes can be summarized as follows:
ITIL 4 relates to service management, not just ITSM
The new version focuses on value creation (or value co-creation)
ITIL 4 offers a new service value system and, within it, a service value chain
Management practices replace v3's processes
There's no longer a "service lifecycle"
ITIL 4 brings in the Practitioner Guide's guiding principles
The four dimensions of service management replace v3's four Ps.
What is ITIL? @SophieDanby takes a look at 7 key changes that took place with #ITIL4. #ITSM #ITIL
Click To Tweet
The ITIL service value system
The service value system shows how demand for services is turned into value.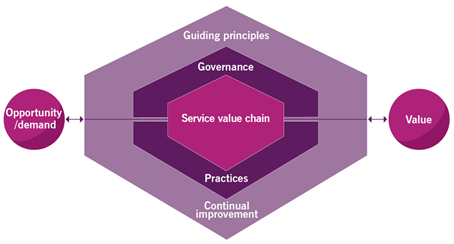 This article separately covers three service value system elements – the service value chain, guiding principles, and management practices. The remaining two elements are:
Continual improvement. This element replaces v3/2011's CSI, but it's more than a name change. It's now a management practice rather than a separate v3 publication. It also reflects that service management improvement applies to more than the improvement of services.
Governance. ITIL 4 calls out three key aspects of governance:
Evaluation of change
Direction
Monitoring of organizational performance
The four dimensions of service management
The ITIL 4 four dimensions of service management replace the v3/2011 four Ps (people, process, product (technology), and partners).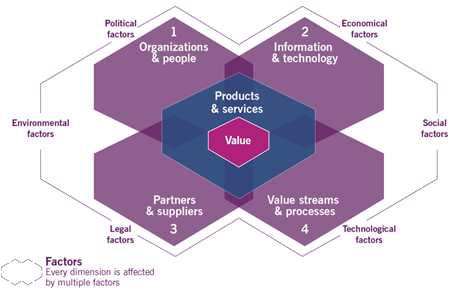 The ITIL service value chain
The service value chain is "an operating model which outlines the key activities required to respond to demand and facilitate value realization through the creation and management of products and services."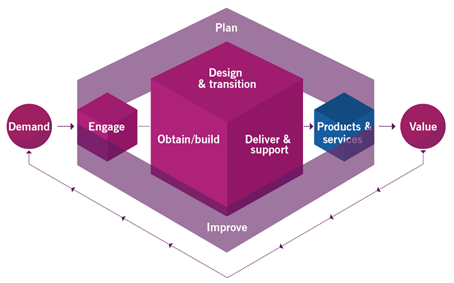 The ITIL service value chain has six repeatable activities:
Plan – to gain a shared understanding of various service provision and support aspects
Improve – to continually improve practices, products, and services
Engage – to understand stakeholder needs and create good relationships
Design and transition – to ensure products and services meet customers' quality, cost, and the time-to-market expectations
Obtain/build – to ensure service-component availability
Deliver and support – to ensure agreed specifications and expectations are met by service delivery and support capabilities.
From guiding principles to service value chain, the four dimensions to the service value system, @SophieDanby attempts to offer as much insight as possible into #ITIL4 in this blog. #ITSM
Click To Tweet
ITIL 4 guiding principles
| | |
| --- | --- |
| Guiding principle | Definition |
| Focus on value | "Everything that the organization does needs to map, directly or indirectly, to value for the stakeholders. The focus on value principle encompasses many perspectives, including the experience of customers and users." |
| Start where you are | "Do not start from scratch and build something new without considering what is already available to be leveraged. There is likely to be a great deal in the current services, processes, programs, projects, and people that can be used to create the desired outcome. The current state should be investigated and observed directly to make sure it is fully understood." |
| Progress iteratively with feedback | "Do not attempt to do everything at once. Even huge initiatives must be accomplished iteratively. By organizing work into smaller, manageable sections that can be executed and completed in a timely manner, it is easier to maintain a sharper focus on each effort. Using feedback before, throughout, and after each iteration will ensure that actions are focused and appropriate, even if circumstances change." |
| Collaborate and promote visibility | "Working together across boundaries produces results that have greater buy-in, more relevance to objectives, and increased likelihood of long-term success. Achieving objectives requires information, understanding, and trust. Work and consequences should be made visible, hidden agendas avoided, and information shared to the greatest degree possible." |
| Think and work holistically | "No service, or element used to provide a service, stands alone. The outcomes achieved by the service provider and service consumer will suffer unless the organization works on the service as a whole, not just on its parts. Results are delivered to internal and external customers through the effective and efficient management and dynamic integration of information, technology, organization, people, practices, partners, and agreements, which should all be coordinated to provide a defined value." |
| Keep it simple and practical | "If a process, service, action or metric fails to provide value or produce a useful outcome, eliminate it. In a process or procedure, use the minimum number of steps necessary to accomplish the objective(s). Always use outcome-based thinking to produce practical solutions that deliver results." |
| Optimize and automate | "Resources of all types, particularly human resources, should be used to their best effect. Eliminate anything that is truly wasteful and use technology to achieve whatever it is capable of. Human intervention should only happen where it really contributes value." |
Management practices
ITIL 4 defines a management practice as "…a set of organizational resources designed for performing work or accomplishing an objective." The 34 management practices replace the 26 processes and four functions within v3. This change is intended to elevate organizational thinking beyond the ITSM processes.
New service management and broader general management capabilities are included. There are name changes – such as capacity and performance management, change enablement, and monitoring and event management. Practice content has changed, too.
The 34 Management Practices
Source: Axelos, "ITIL Foundation: ITIL 4 Edition" (2019)
34 management practices, 7 guiding principles, certifications, and more… here's @SophieDanby's round up on #ITIL4 #ITSM #ITIL
Click To Tweet
ITIL 4 certifications
The initial ITIL4 certifications were Foundation, Managing Professional, Strategic Leader, and ITIL Master as shown below.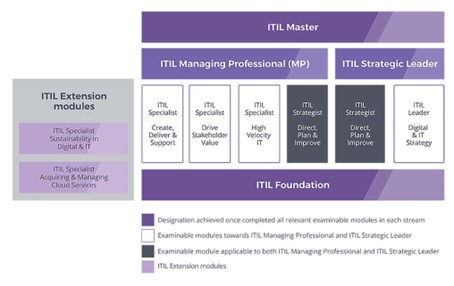 The core modules that enable the above certifications are:
ITIL Foundation
Create, Deliver & Support
Drive Stakeholder Value
High Velocity IT
Direct, Plan & Improve
Digital & IT Strategy.
There are now also four ITIL 4 Specialist "extension modules" (only two are shown in the earlier Axelos ITIL certification diagram):
Sustainability in Digital & IT
Acquiring & Managing Cloud Services
Business Relationship Management
IT Asset Management.
These also have associated ITIL certifications.
Changes to the ITIL 4 certifications in 2023
In 2023, the ITIL Practice Manager Certification was added to the available ITIL 4 qualifications, such that the Create, Deliver and Support exam can be supplemented by new practice-based certifications as shown below.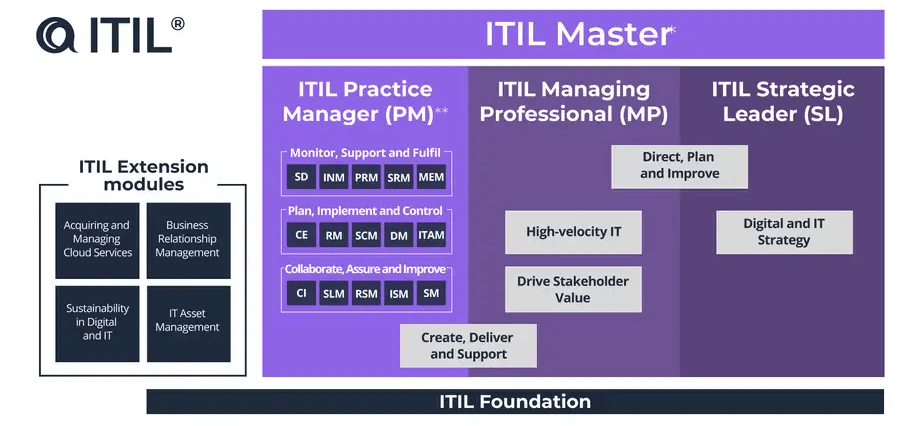 This new ITIL 4 certification offers a different level of progression for ITIL 4 Foundation Certification holders because they can now gain a manager-level certification that's aligned to their preferred service management area:
Monitor, Support and Fulfil – which includes service desk, incident management, problem management, service request management, and monitoring and event management
Plan, Implement and Control – which includes change enablement, release management, service configuration management, deployment management, and IT asset management
Collaborate, Assure and Improve – which includes continual improvement, service level management, relationship management, information security management, and supplier management.
This new ITIL 4 certification can help you or your colleagues plot a focused career path. For example, if you're an IT service desk agent with the ITIL 4 Foundation Certification, you could obtain the ITIL Practice Manager Certification by focusing on the five Monitor, Support and Fulfil practices.
If you liked this "What is ITIL?" article, the following ITIL articles are also popular with ITSM.tools readers: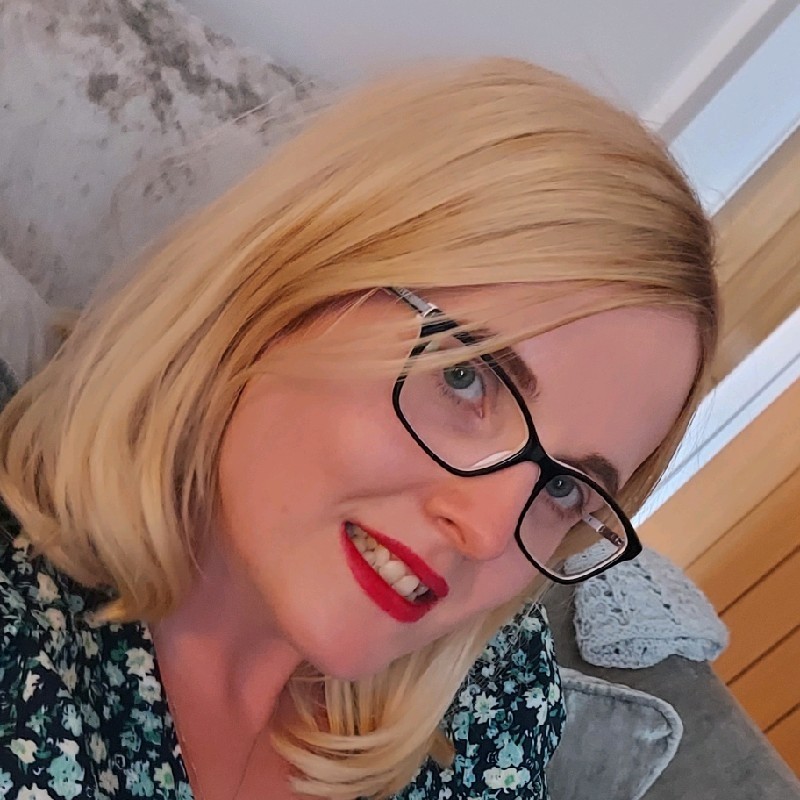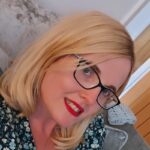 Sophie is a freelance ITSM marketing consultant, helping ITSM solution vendors to develop and implement effective marketing strategies.
She covers both traditional areas of marketing (such as advertising, trade shows, and events) and digital marketing (such as video, social media, and email marketing). She is also a trained editor.