I've written a lot – and some would say too much – about IT self-service. Much of this has been related to how IT departments continue to struggle with creating self-service and self-help capabilities despite ITIL best practices. Or, to be more precise, how they struggle to create capabilities that end users or customers actually want to use and reuse.
Much of what I've written has been backed up by research and statistics from various Service Desk Institute (SDI) reports; and now SDI has created a targeted advisory resource – "Realizing ROI from Self-Service Technologies" – to help IT departments, and their IT service desks, finally get self-service right.
To get you interested from the get-go, here's one of the report's opening statements:
"The increase in the adoption of self-service tools is undoubtedly due to the range of associated benefits that comes with the implementation of such a solution, most commonly reduced support costs, increased customer satisfaction, and a round-the-clock support channel. However, the number of organizations that have realized these benefits and have achieved the anticipated return on investment (ROI) are few, less than 12% according to recent SDI research."
Getting under the skin of IT self-service success and failure
As the blog shows below, the SDI report offers interesting insights into IT self-service successes to date and the key things that influence success (or failure). It examines different groups of organizations based on their relative levels of self-service success – splitting survey respondents into the following cohorts:
Less than 25% of ROI achieved
25% to 50% of ROI achieved
50% to 70% of ROI achieved
70% to 99% of ROI achieved
Over 100% of ROI achieved
With the report outlining the characteristics of each cohort across each of:
Age – the age of a self-service support solution
Motivations – the reasons for implementing a self-service proposition
Motivations met – meeting expectations
User preference – what the end user favors
Obstacles encountered – barriers to success
Benefits achieved – deriving value.
Key success obstacles: Less than 25% of ROI achieved
As the bar chart below shows, while the self-service tool had a part to play in the self-service failure, the key obstacles causing the lack of self-service success were:
End users preferring the human touch – 87%
A lack of marketing awareness – 74%
Which both relate to organizational change management, or the lack of it.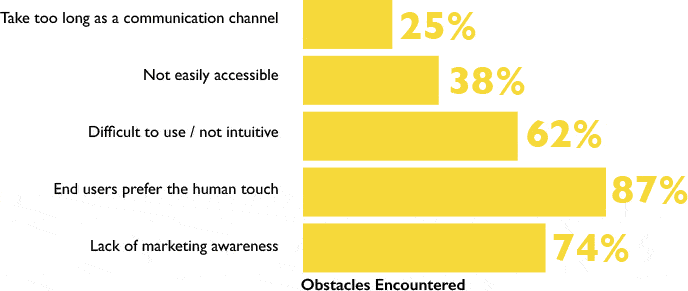 Key success obstacles: Over 100% of ROI achieved
At the other end of the cohort-spectrum, there's still a high percentage of end users that prefer the human touch (71%) – but it's the only real obstacle compared to the least-successful cohort above: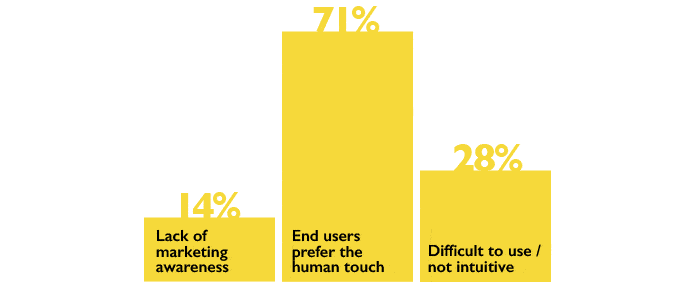 Importantly, marketing seems to have done its job. And the self-service tool or technology is not getting in the way.
Does the age of the IT self-service technology matter?
While I'll commonly talk to the absence of people change, and organizational change management, as a key root cause of self-service failure, the SDI report data highlights the importance of tool age, and capabilities, to self-service success. In fact, the pie chart below shows an interesting distribution of tool age for those companies that have achieved or exceeded the anticipated benefits from their self-service technology investment: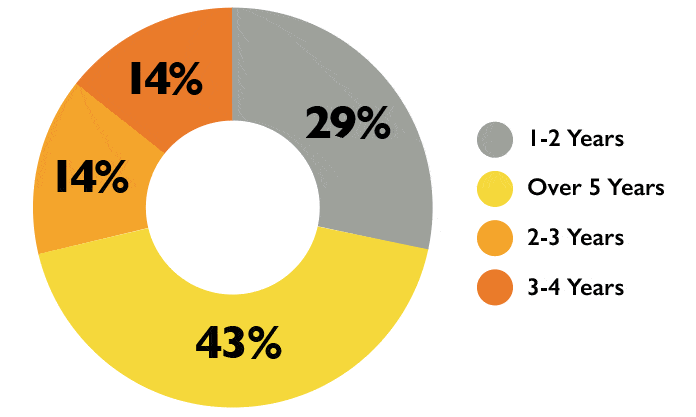 And to quote SDI's analysis:
"Positively for organizations with older self-service solutions, the largest group in this cohort has self-service portals older than five years. The second largest group at 29% represents self-service solutions that are between one and two years old, supporting the theme of newer tools on the market offering the quickest route to stronger return on investment."
It makes sense – on the one hand the newer tools have learned how best to deliver a highly-usable self-service capability, often employing consumer-world capabilities to drive end-user adoption. And the older tools have been in situ long enough to reap the anticipated benefits – which may or may not have involved repeat attempts to bring about self-service success. Or playing devil's advocate, they might have been introduced before consumer-world self-service capabilities raised employee expectations of what self-service should be like.
But we have to be so, so careful with this tool-based view – as the oft-quoted "A fool with a tool is still a fool" is applicable here. The tool alone is not enough, as this cohort-based view of tool age shows:
Less than 25% of ROI achieved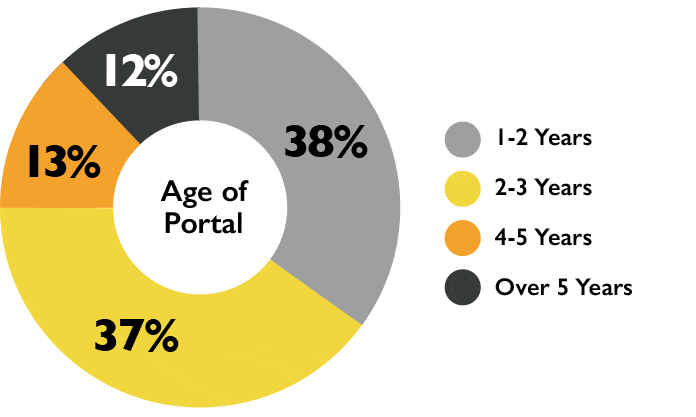 25% to 50% ROI achieved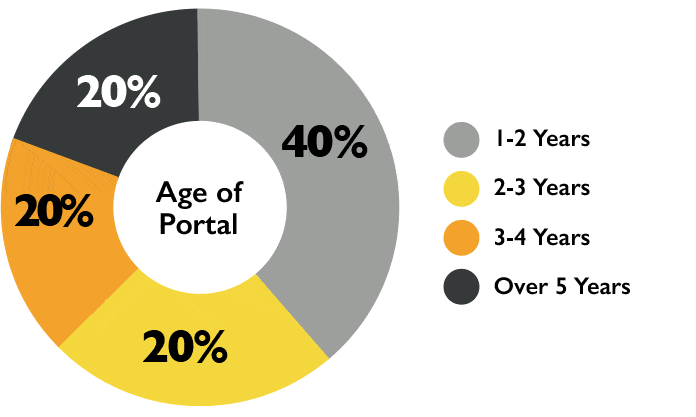 50% to 70% ROI achieved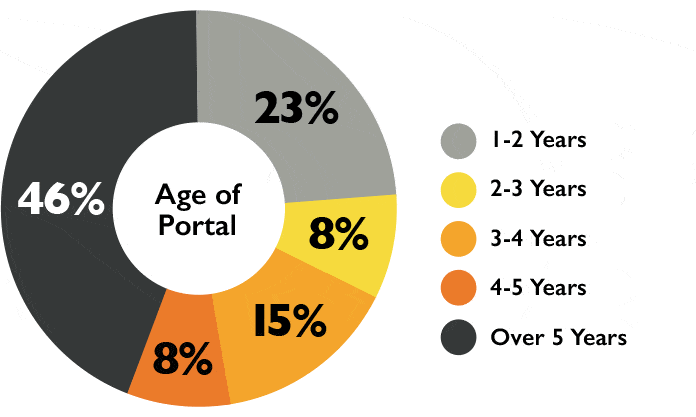 70% to 99% ROI achieved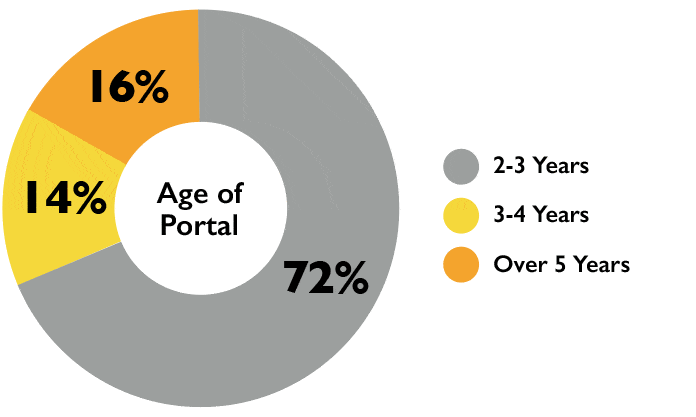 As you can see the four pie charts show, having either newer or older tools was insufficient for these organizations to achieve self-service success. With the "70% to 99% of ROI achieved" cohort bucking the trend for successful organizations having either the most recent or oldest tools – albeit still missing out on the target ROI.
Further analysis in the SDI IT self-service report
In addition to this age-based analysis, the report can be used to compare success relative to:
Motivations – the reasons for implementing a self-service proposition
Motivations met – meeting expectations
User preference – what the end user favors
Obstacles encountered – barriers to success
Benefits achieved – deriving value.
And the report's conclusion on "The Factors to Achieving Greater ROI" offers advice such as (and this is just a small subset of the conclusion text):
Cost reduction – "Cost reduction could be viewed as an aspirational outcome driven through less tangible value based motivations."
Return on motivation – "It seems reducing cost alone is not enough to realize business value from a self-service solution. In comparison, organizations in the higher ROI categories have achieved other motivations and, in the process, have reduced cost."
Focus on specific motivations – "A uniting factor for organizations in the more successful categories is a greater degree of focus on specific motivations, the ones that provide the most value to them."
Focus on user demand – "Of all the motivations analyzed, the most consistent with the success of an organization supported, influenced and increased user demand."
Design with the customer at heart – "The most successful organizations were those who benefited from a self-service solution designed with the customer at the heart of the service and realized higher customer preference rates."
Provide support channels that improve customer experience – "All ROI cohorts in this report suffered from a common obstacle; customers preferring the human touch. For some organizations, undoubtedly due to their motivation only to reduce cost and workloads, this obstacle proved damaging. However, for others, no major impact is seen."
This blog only skims the surface of this ITSM report's findings, but hopefully you've found it interesting in its own right. And, if you're an IT department looking to start, or are still struggling with, an IT self-service initiative, hopefully you'll find the SDI report a valuable, and good-value, investment for your self-service planning, design, delivery, and ongoing operations.
If you want more content like this, please subscribe to our monthly email. Or follow ITSM.tools or Stephen Mann on Twitter.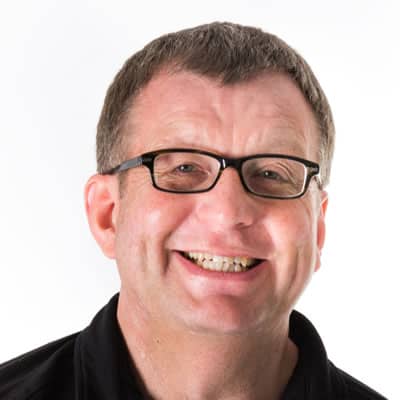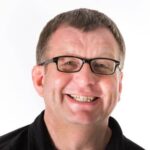 Principal Analyst and Content Director at the ITSM-focused industry analyst firm ITSM.tools. Also an independent IT and IT service management marketing content creator, and a frequent blogger, writer, and presenter on the challenges and opportunities for IT service management professionals.
Previously held positions in IT research and analysis (at IT industry analyst firms Ovum and Forrester and the UK Post Office), IT service management consultancy, enterprise IT service desk and IT service management, IT asset management, innovation and creativity facilitation, project management, finance consultancy, internal audit, and product marketing for a SaaS IT service management technology vendor.