Unexpected cloud bills, landing heavily on the CFO's doormat, are the IT service management (ITSM)-related headlines that you read about when an organization's level of "cloud sprawl" is out of control. What's less talked about is the difficulty that non-cloud-experts have in actually using the cloud. This means that many companies have poor cloud adoption rates because it's considered too complex and it goes in the "too hard" bin. And if the cloud isn't meeting an important company compliance need, such as HIPAA, then it's not even an option. The answer to these issues is to "wrap the cloud with ITSM" for most end users which helps to create "guardrails" for its use. These guardrails simultaneously make the cloud "easier to eat" while also ensuring that it's also compliant and well-governed. Please read on to understand more.
Are you suffering with poor #cloud adoption rates? Is it considered too complex & put in the "too hard" bin? Check out this advice from @viewyonder. #ITSM
Click To Tweet
Cloud life without guardrails
Without "cloud with ITSM" guardrails, serious issues arise when end users start consuming the cloud, this is commonly because:
Cloud requires expertise and it's non-trivial to use – with the barriers to adoption meaning lower ROI and failed cloud adoption programs.
Multiple people "do cloud" differently – with the lack of standards, and a considerable variance of quality, meaning poor budget efficiency, security issues, and more.
Cloud sprawl so easily occurs – with cost control currently the number one concern for enterprises using cloud. For example, without guardrails, cloud users might only use premium-rate on-demand cloud services instead of using corporate discounts.
Automation of cloud is a specialist job and crucial to its efficient use – without it, staff will manually click around the cloud interface and select seemingly random settings while not understanding the consequences.
Cloud doesn't stand still and poor practices use old resources and methods – for example, cloud prices for compute are continually reduced while power goes up, but poor cloud organizations are still using very old instances and paying over the odds.
Hence, if an enterprise isn't using any guardrails then it's guaranteed that they'll be over funding their cloud by at least 50% of their current bill. Here, by just switching to pre-paid resources the bill can be reduced by 50%. And by using more advanced techniques, some bills can reduce by 80%.
Just as important to enterprises are the issues of poor cloud consumption, by their employees, without "cloud with ITSM" guardrails. Often it's just too hard, or not what the end users want, so adoption stalls. Here, a well-implemented guardrail system using integrated ITSM and cloud service catalogs is the answer.
Could your #cloud strategy benefit from a well-implemented guardrail system using integrated #ITSM and cloud service catalogs?
Click To Tweet
Get "cloud with ITSM" guardrails with a service catalog
There are hundreds of services in a cloud, each having hundreds of configuration items. These can be programmatically woven together in ingenious ways. But does the average IT end user care? No. They usually just want their desktop, their development environment, or access to a customer relationship management system without all the technical detail.
The way to deliver this is to give the end user a simple option in an ITSM service catalog tool which then, in turn, asks the cloud for what the end user wants in language the cloud understands. A translator, if you will.
All it takes is for #cloud & #ITSM teams to work together to produce the necessary guardrails to save your company money & avoid bad PR, big fines, and end-user frustration –@viewyonder. #cloud
Click To Tweet
There are two ways that an ITSM tool can do offer "cloud with ITSM" guardrails:
The ITSM service catalog tool is cloud-savvy and does all the heavy lifting.
The cloud service provider's service catalog tool does all the heavy lifting.
The best option here is a separation of concerns:
Have the ITSM tool do the ITSM stuff (approvals, value chain, user interactions, etc.), and
Have the cloud tool do the cloud stuff (automate the creation and combination of cloud services).
This way the ITSM tool provides the organization's ITSM guardrails of approvals, authorization, etc. While the cloud tool ensures that the organization's cloud guardrails of which cloud instance sizes to choose (to match budgets), which networks to connect to (for security), and what controls to implement (for security, compliance, and governance) are in place.
All of these tools already exist. The expertise exists. All it takes is for the cloud and ITSM teams to work together to produce the necessary "cloud with ITSM" guardrails to save their company money and avoid bad PR, big fines, and end-user frustration. Simply let the end users use their familiar ITSM tools to tell the cloud to "make it so."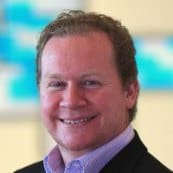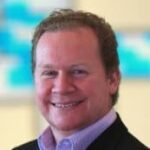 Steve Chambers generates real-time analysis on the topics of Cloud, DevOps, and ITSM. Steve helps organizations that range from global to local, commercial to public sector, and startup to enterprise. With these organizations, Steve operates at the conjunction of cloud service providers and organizations that consume their services, and analyzes and advises on the impact on their people, process, and technology.
Steve's career spans more than twenty years including banking, consulting engineer with Loudcloud, professional services and presales management at VMware, Cisco and VCE and executive CTO office at Atos Cloud, and numerous roles with startups in the cloud software business.
In addition to his day job, Steve is also an Associate Consultant at ITSM.tools.