According to ITIL, the purpose of IT demand management in IT service management (ITSM) is to understand, anticipate, and influence customer demand for services. We can extend this, by not only referring to services and applying this general definition elsewhere, such that IT demand management is the process an organization puts in place to internally collect new ideas, projects, and needs during the creation of a portfolio. Often IT demand management is also a critical evaluation of the ongoing activities.
In this article, I explain how to fulfil the IT demand management process objectives within your organization.
This article explains how to fulfil the IT demand management process objectives within your organization. #ITSM
Click To Tweet
IT demand management as a key IT function and its value
Organizations should approach IT demand management proactively, trying to address strategy needs while collecting new ideas.
IT demand management is vital because organizations can't plan adequately, to meet increased demands, based on guesswork alone. The major benefit provided is that it achieves a balance between the cost of service or project and the value it supports. It also improves the understanding of how, when, and to what level the elements such as business outcomes, services, resources, and capabilities interact.
However, collecting the data that feeds the IT demand management process is one of the biggest challenges faced by IT demand managers (or other roles responsible for IT demand management). IT demand management relies on several points of data to accurately assess demand and many companies have trouble gathering that data.
The importance of budgeting
Depending upon the strategic planning process of an organization, information from the initial steps can be used to allocate appropriate budget. This helps to create a consolidated view of all IT demand types to then realize tradeoffs and synergies.
The IT demand management team can take the results of the IT prioritization process and begin adding projects in priority order to the IT strategic plan. However, they must ensure that project dependencies are considered when adding the prioritized projects.
Putting an IT Demand Management Center in place
For any organization to successfully implement the IT demand management process, it needs people, procedures, and tools. Below I describe the basic components and how this should all work in a general sense. This can be placed either as a centralized hub or as a peripheral departmental center.
Key IT demand management roles:
IT Project/Service Requestor – this is usually a business user within an organization that requests (or demands) a project initiation or a service.
IT Business Relationship Manager/Business Analyst (usually within the IT Project Management Office (PMO)) – this is someone who acts as a bridge between the business and the IT department. They create and grow the connection between the customer and the IT department acting as a provider of a service or a product.
Project Manager and IT team members – depending on the project or the service, these could be Software Engineers, System Admins, Software Architects/Analysts, Software QAs, etc.
This article describes the basic components of how to put an IT demand management center in place and how this should all work in a general sense. #ITSM
Click To Tweet
Key IT demand management components:
The number one component, which is usually missing in an IT Demand Management Center, is a unified channel to receive all demands. This can be achieved by building a Request Portal for all incoming requests, ideas, and demands for IT. It can also play an extra role, that of an internal IT Demand Management Help Center, where business users find information, interact with the IT PMO, submit demands, and are informed about the progress of their demand.
An IT Demand Management Service Desk is a second key component – where people dedicated to this process study, analyze, and prioritize the demands, and decide which of them can be fulfilled by initiating service changes or new projects or products.
An IT Project Management platform. When multiple projects are initiated, your organization will need a platform to manage them. This component is dedicated to the IT organization and will cover both small and big projects.
A Portfolio Management component. This component serves the objectives of an overall portfolio strategy and the need for a clear view of what's happening. Here, the designated IT PMO executive will have an overview of all the live and pending projects as far as progress, budgets, and outcomes are concerned.
Below I provide a schematic of an example IT Demand Management Center: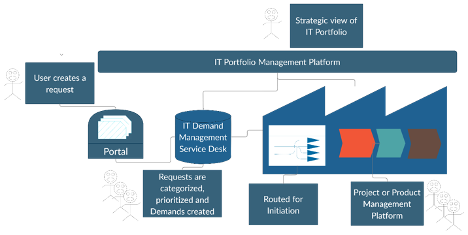 There's always room for IT demand management improvement
Finally, an important aspect of good IT demand management is that it's an iterative and continuously improved process. With changes made as needed to maximize the strategic alignment of the portfolio, minimize the number of demand requests rejected or delayed, and to maximize internal customer satisfaction.
What other advice would you share on the need for, and improvement of, IT demand management capabilities? Please let me know in the comments.
Want more after reading about IT demand management? Here are informative ITIL 4 service value system and ITIL 4 service value chain articles.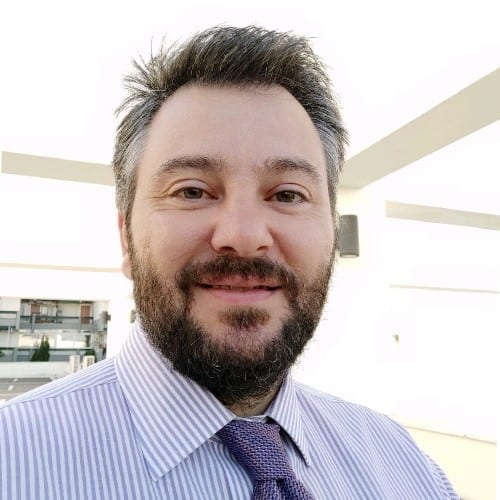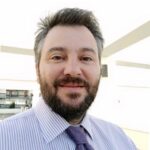 George currently works as Presales Manager for Nimaworks (Atlassian Gold Solution Partner). He has been designing ITSM and IT Governance Solutions for the last 15 years, among other areas. He is always keen on continuous learning about IT best practices and standards like ITIL4, VeriSM, SIAM, COBIT2019, ISO20000, Lean and Agile.