Did you see what I did there? Having enjoyed a few days learning about the latest in IT service management (ITSM) at HDI's 2022 Service Management World event, I wanted to share many of the ITSM nuggets I received in the sessions I attended. Before diving into the detail, here's an observation: I couldn't help but think that this ITSM event had more mentions of enterprise service management (ESM) and experience management than any other ITSM topic or 'trend.'
This word cloud (old school, I know) – based on the Service Management World session titles – kindly proved my thinking: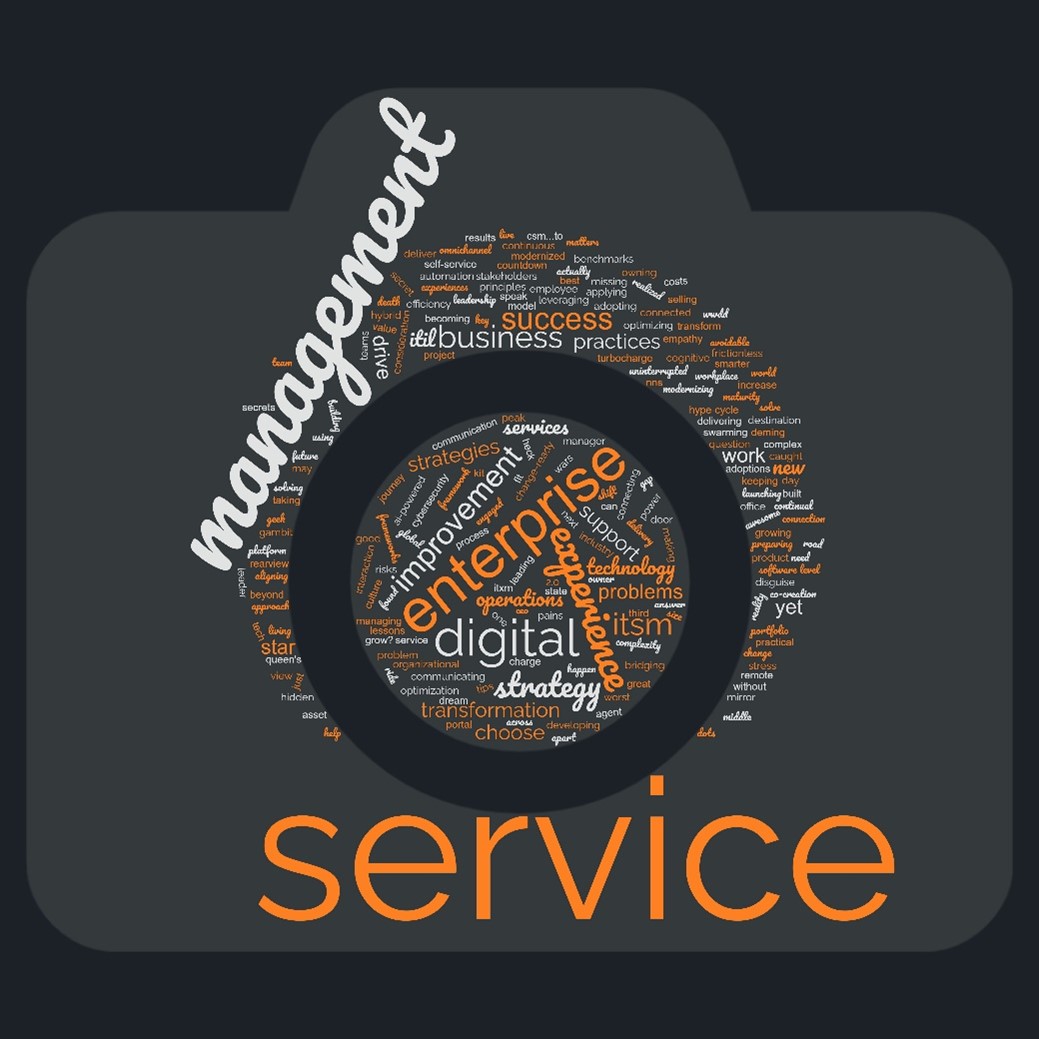 Along with enterprise service management and experience management, the word cloud also highlighted digital, strategy, and improvement as key Service Management World session topics.
Here @SophieDanby shares her key takeaways from the #SMFUSION event from @thinkHDI, including how enterprise service mgmt & experience mgmt were the hottest topics on the table. #ITSM #ServiceDesk
Click To Tweet
So what did I hear and learn at Service Management World 2022?
Service Management World presenters shared the following ITSM nuggets at four of the sessions. Since there were usually six sessions running simultaneously, more were likely missed than experienced by the attendees. We might be able to create something from the downloaded presentation decks, but we'll know better once we've been able to see if we can capture the key points this way.
Rae Ann Bruno – The Third Door Approach To Process Improvement
Don't fix an ITSM process just to improve maturity
Process improvement shouldn't be in a vacuum; fix it because it improves an aspect of experience
How an experience focus changes process improvement: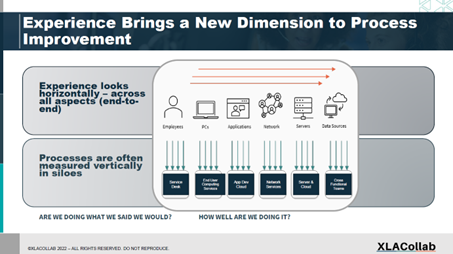 "How many of you look for a "third door" (another way) to make something happen? It's what employees do when they think IT support isn't helping them"
The "third door" provides insights into what's not working in IT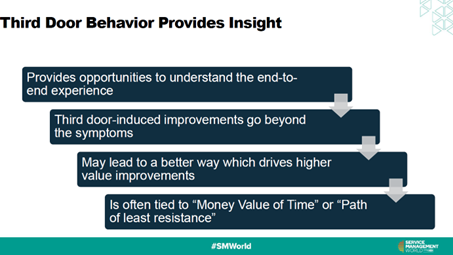 'Don't fix an IT process just to improve maturity' – @RaeAnnBruno #servicedesk #ITSM
Click To Tweet
Examples of third-door behavior in IT:

Bypass support channel processes

Find someone they know and trust

Send a personal email or call a personal number

Help in conference rooms (clickers, projector troubleshooting, etc.)

Verbal requests vs. Tickets to self-help options

Default Project Team Members

Buying what they want (e.g. grant $)

Reach out for status updates
Reach out for status updates
If you don't change experiences, people don't change their beliefs (which in turn drive their actions)
The impact of bypassed IT processes:

Missed deadlines and targets

No time to brainstorm/collaborate on efficiency or improvement ideas

Siloed approach to support/work

Team members don't feel valued

Negative impact on productivity; team and customer

Negative employee experiences

Low employee satisfaction

Don't feel valued or empowered

Poor employee experiences
What to measure to make better IT experiences – experience level agreements (XLAs):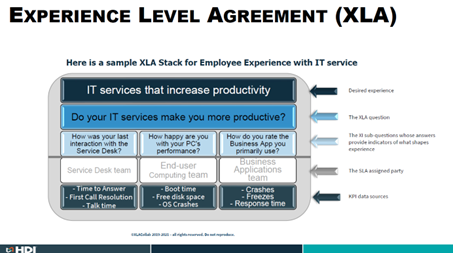 Don't focus on driving new behaviors; understand the current behaviors, and ask questions:

Why (and how) are they using the third door?

What is the desired experience?

What affects the experience?

What is the customer effort?

What are we learning (hints, clues, patterns, pathways)?

What are their unmet needs?

What are all the interactions and touchpoints (process, technology, people and how do they affect sentiment?

What are the biggest pain points?

How can we change perceptions?
Learn the why behind third-door use: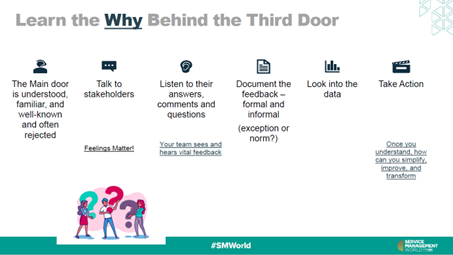 Go beyond IT transactions and processes:

Are we helping you to be more productive at work?
What makes your job difficult?
How do you feel (about)…?
What do you expect when…?
How can we make your job easier?
Where could we help you gain time?
What is efficient/inefficient?
What requires more effort on your part?
If we could change one thing that would have a large impact on [XX], what would it be?
Matt Beran – Living the Dream: Making Enterprise Service Management a Reality
We have to be careful that our definition of enterprise service management (ESM) isn't too IT-focused
"extending IT service management capabilities beyond technology services to address business-centric use cases; managing service demand and supply through a common platform, portal, and service catalog; and speeding up innovation and workflow automation through PaaS/low-code development tooling."

Forrester Research
Enterprise service management is essentially a silo buster – it breakdowns borders between teams and can lead to massive growth in the organization
The hidden challenges of enterprise service management include: turf wars, resistance to change, ITs bad reputation, fear of transparency, and that it feels "overwhelming"
Wherever there's a paper form in your organization, there's an opportunity for enterprise service management
Tricks for "selling" enterprise service management:

What are your biggest challenges or problems?
What if we could cut your delivery time in half?
Bring in an outside consultant or viewpoint
Start with research
Start mapping processes
Run a simulation
Share success stories

Some of the areas of value in service management that translate to other teams include a single point of contact, escalation and subject matter experts, knowledge articles, self-help, service requests, and continual improvement
It isn't about getting people to follow the process; it's about getting the process to follow the people (I love this!)
'It isn't about getting people to follow the process; it's about getting the process to follow the people' – @mattberan #ESM #ITSM #ServiceDesk
Click To Tweet
David Cannon – Digital Strategy: The Missing Key to ITSM Success
The role of ITSM pros in organizations is shrinking (unless they do something to change this)
Digital transformation changes everything (about ITSM):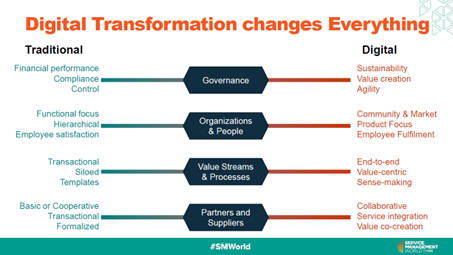 What digital transformation means for ITSM

IT is responsible for a shrinking subset of serices

IT is just one of many technology service providers, and each uses their own framework (e.g. DevOps, SRE)

Each change impacts how we support and deliver services

Who supports the service?

Are priorities and categories changed?

Staying relevant means reinventing the basics

And we often only find out what the changes have been made

Sometimes the business gets into trouble with the new technology and requires IT to intervene

Staying relevant means reinventing the basics – you have to revisit the basics time and time again for any of the "new stuff" to work
If we want our roles to evolve, we MUST pivot from only providing services to enabling value streams, and stop being a tech silo ("learn the business of your organization")
Strategy should be consistently adjusting and evolving based on the world around us – you can't just create a one-time strategy document and expect that to be the path you follow
Strategic change can and should come from anywhere: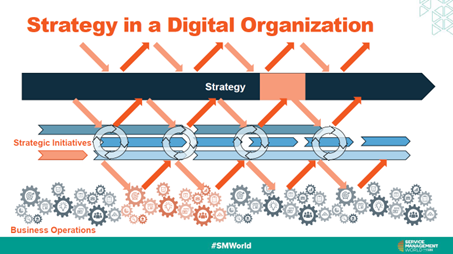 What happens when IT is involved in strategy:

We participate in decisions:

What will change with each option?

How can we prepare for the changes?

What is the impact on existing services?

What investment will we need?

We reinforce our role as part of the business

We shift the perception of IT as a cost center to IT as a value co-creator

We learn new ways of working

Projects that are not directly linked to the organization's strategy may have short-term success but die in the long term
Make sure that project investments are linked to outcomes: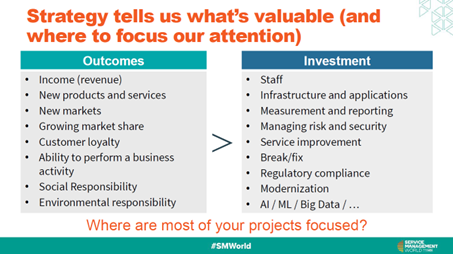 The four key steps in making ITSM more strategic: engage with other leaders, map the value streams, expand your ITSM program*, and embrace other frameworks in use
* Improving incident, problem, and change might be strategic to IT, but it isn't to anyone else – you need to expand strategic and tactical ITSM practices such as capacity, availability, risk, relationship, and financial management
Service level management isn't a field in an incident ticket (a genius quote!)
'Staying relevant means reinventing the basics – you have to revisit the basics time and time again for any of the 'new stuff' to work' – @itilso #ITSM #ServiceDesk
Click To Tweet
Stephen Mann – Service Management in 2023 and Beyond
67% of people surveyed by ITSM.tools stated that working in IT has impacted their well-being, and 88% said they think working in IT will get harder in the next three years – this means we MUST start addressing well-being issues in ITSM now
80% of people surveyed by AXELOS and ITSM.tools stated that their knowledge management needs improving – it's a scary statistic when you consider how critical knowledge management is to all the "new shiny" things people want to be working with (AI, etc.).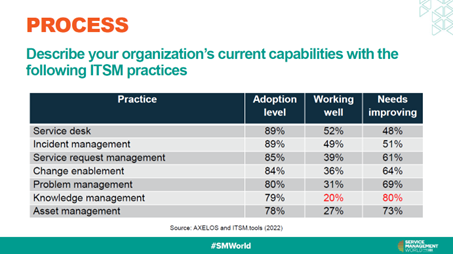 Fewer than 21% of people say they have realized the benefits of their investments in self-service – this is because we focus on the technology and not the people, and we are dangerously close to making the same mistakes again with AI
We're still struggling to justify to leadership the value of ITSM, but do we know ourselves?
An activity like value stream mapping can help to map your IT services to business operations and outcomes, but only 29% of the people surveyed by ITSM.tools have already done this
No one has really cracked the "value nut" – there are frameworks and guidance, but there's no simple formula or method to help people in ITSM easily determine their value… Your best option is to use stakeholder conversations to ascertain value
We've reached a point where everyone seems to understand the importance of employee experience now, but sadly still too few are doing anything about it – you need to start NOW
Implementing new technology doesn't automatically improve employee experience, STOP thinking it does – look at these HappySignals statistics on how "unhappy" people are with the self-service portal and how much time it loses people (even in the organizations focused on experience improvement):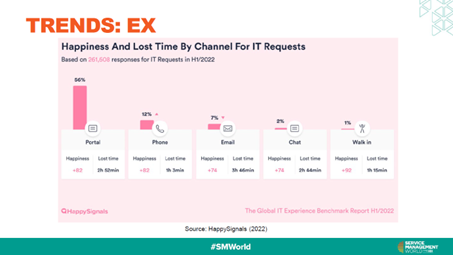 'We've reached a point where everyone seems to understand the importance of employee experience now, but sadly still too few are doing anything about it – you need to start NOW' – @StephenMann #EX #ITSM
Click To Tweet
Key takeaways: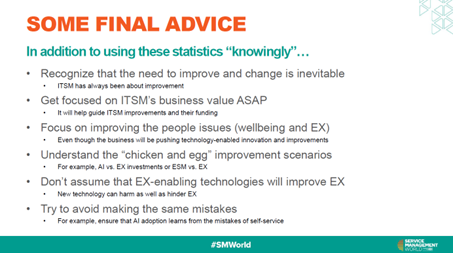 There were far more ITSM nuggets shared at Service Management World than I've included in this article, but hopefully the above is helpful and a good taster for future HDI ITSM events.
Here @SophieDanby shares #ITSM wisdom & tips from @RaeAnnBruno, @MattBeran, @itilso, & @StephenMann with a round up of their #SMFusion presentations.
Click To Tweet
If you would like to read other ITSM articles, then please try these: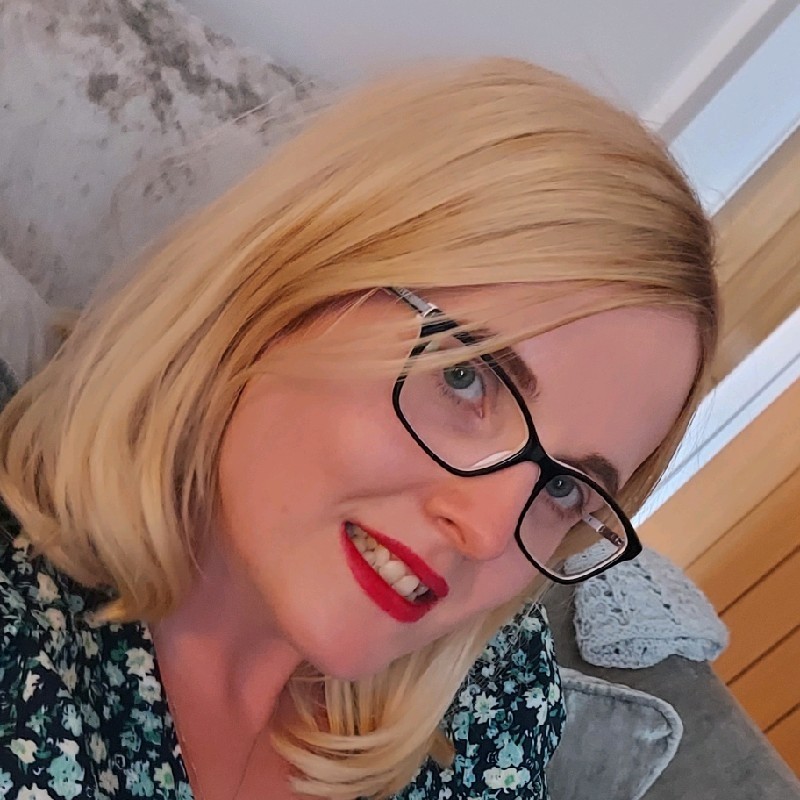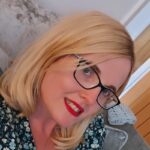 Sophie is a freelance ITSM marketing consultant, helping ITSM solution vendors to develop and implement effective marketing strategies.
She covers both traditional areas of marketing (such as advertising, trade shows, and events) and digital marketing (such as video, social media, and email marketing). She is also a trained editor.