Solution overview
SysAid Technologies ("SysAid"), established in 2002, is a provider of IT help desk and IT service management (ITSM) solutions, popular with small-to- medium businesses (SMBs) through to upper mid-market organizations. The latest release is available via both software-as- a-service (SaaS) and on-premise delivery models, with SysAid stating that new customers are presently selecting SysAid Cloud (a SaaS offering) over the On-Premise solution in a 3:2 ratio. SysAid not only offers core ITSM capabilities, but also provides a number of additional modules, which in ITSM.tools' opinion help with key IT management needs beyond ITSM. It also has a strong focus on data exploitation with three reporting and analytics capabilities allowing customers to get more from the wealth of data stored within their ITSM tool: IT benchmarks, where aggregated performance benchmark data from thousands of opted-in customers is shared back; business intelligence (BI) for ITSM, provided by BI market leader Qlik®; and a recently redesigned native reporting and analytics module.
Key strengths, improvement opportunities, and product roadmap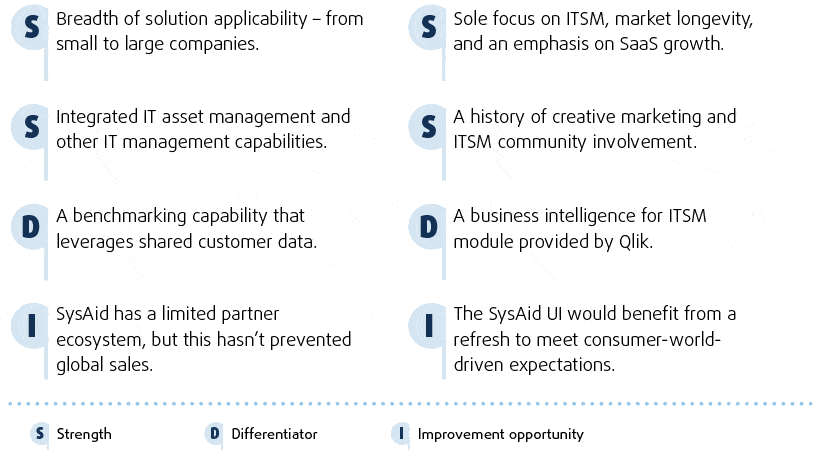 Key Differentiators
Pricing/value for money (plus a free, entry-level solution); IT benchmarks; BI for ITSM; integrated IT asset management (ITAM); additional IT management capabilities outside of core ITSM; and speedy implementations.
Solution Roadmap
In the next 12 months, SysAid states that it will deliver an improved user interface (UI) for the self-service portal, new mobile apps, and additional integrations with third-party add-ons. Longer term, SysAid is working on developing an improved UI across the product.
Solution functionality
SysAid Technologies was founded in 2002, with a vision to "make the lives of IT professionals around the world easier, and to make their IT environments and IT service delivery better." The solution is offered in both SaaS and on-premise versions, with a broad range of capabilities that also includes ITAM. This, in our opinion, demonstrates that the solution has very much been created with day-to-day IT needs in mind – offering customers practical assistance in addition to ITIL process-based workflow and automation.
The solution is available in English (US), English (UK), French, Spanish, German, Italian, Russian, Hebrew, Portuguese (Br), Chinese (Simplified), and Japanese. It can also be translated into any additional languages upon request and the self-service portal is available in 42 languages.
Core ITSM capabilities beyond incident, problem, and change management include:
SysAid Self-Service Portal – which allows end users to submit incidents, request services, view IT announcements, chat with IT support people, consult knowledge articles for self-help, and reset domain passwords or unlock accounts.
SysAid Knowledge Management – an integrated knowledge management module that provides incident resolution tips and how-to solutions available to all employees.
SysAid CMDB – which helps customers to predict the impact of changes, and the associated potential for incidents, and allows service desk agents to use graphical representations of the IT and service environments to better understand the business impact of incidents and problems.
ITIL Process Support
SysAid's support for the 26 ITIL processes is as follows – denoted as one of completely (C), partially (P), via another company offering (O), via a third-party offering (T), or not supported (N):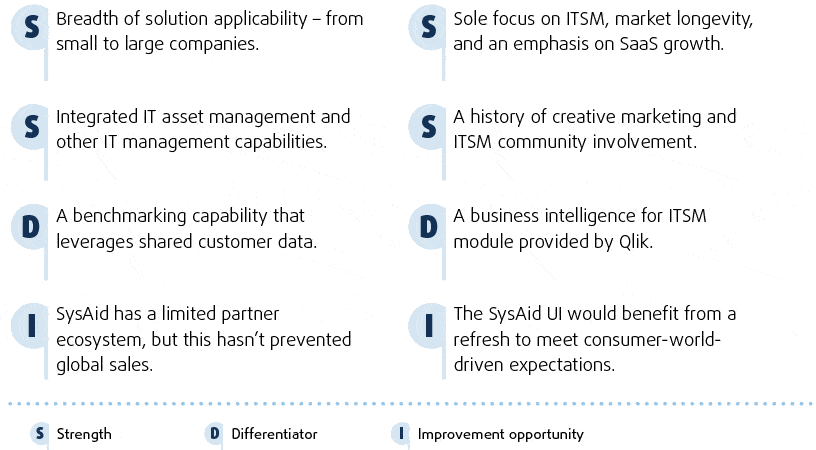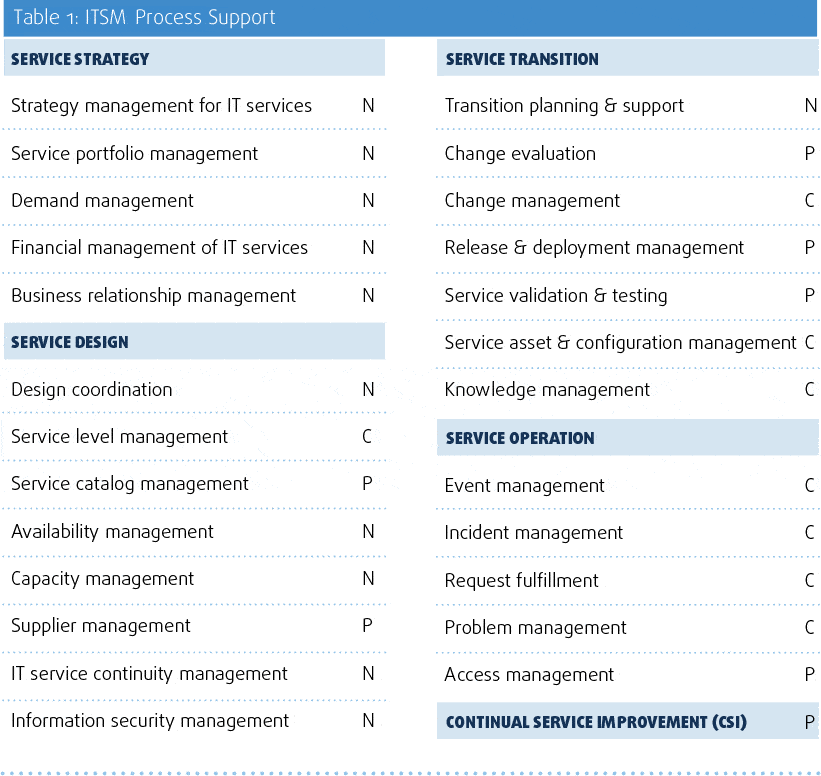 SysAid's solution is certified by PinkVERIFY for three core ITSM processes: incident, problem, and change management.
Reporting & Analytics
To support customers' analytics needs, SysAid offers both its own, recently created, reporting tool that provides best-practice, out-of- the-box reports, plus the ability to create additional reports without coding skills, and an optional, third-party- provided BI analytics module.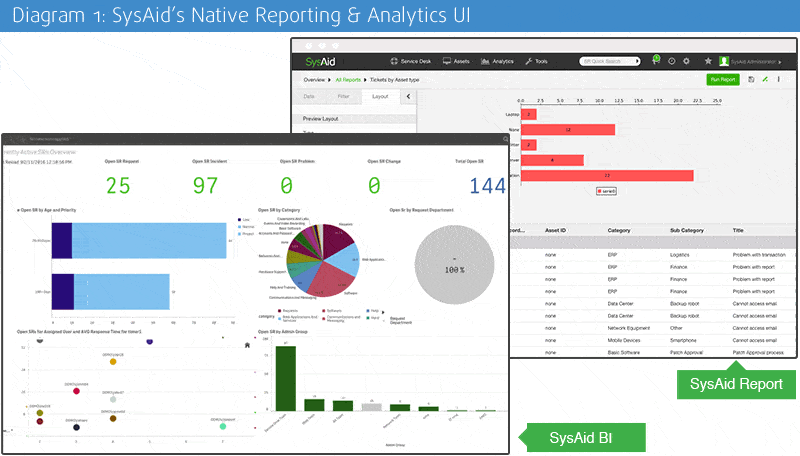 In ITSM.tools' opinion, SysAid has taken note of the market's longstanding discontent with ITSM tool reporting and analytics capabilities to offer up a far more modern approach to ITSM data exploitation. It's a much-needed capability for IT organizations that need to better understand, and demonstrate, current performance while building a platform for improvement.
Additional Capabilities of Note
SysAid Asset Management – asset discovery, inventory, and change tracking capabilities that supports incident, problem, and change management activities.
SysAid Chat – that allow end users to converse with service desk agents in real time.
SysAid Password Reset – end users can securely reset their domain passwords and unlock their accounts themselves.
SysAid MDM (mobile device management) – to secure and support corporate and personal mobiles and tablets.
SysAid Monitoring – for a customer's IT network, server estate, mobiles, system processes, and SNMP traps.
SysAid Remote Control – native remote control capabilities allow service desk agents to securely resolve end-user issues remotely.
SysAid Patch Management – a third-party provided module for both security patches and software updates.
SysAid Tasks & Projects – a native project management capability.
SysAid Remote Desktop – with which end users can remotely, and securely, access their work desktops and data.
Solution technology
SysAid is offered via cloud (SaaS), on-premise, private cloud, and hybrid cloud delivery models. SysAid advises that its approximate split of customers between licensing models is:
On-premise with perpetual license – 70%
SaaS subscription – 21%
On-premise with annual subscription – 9%
In the last 12 months, the company states that new customers have been split between SaaS and on-premise in the ratio 60:40. Mobility is supported via a native mobile app, available on iOS and Android. Older versions of the app are still available for Windows Mobile and BlackBerry devices.
Solution Architecture
The on-premises solution architecture is shown in Diagram 2, and SysAid Cloud in Diagram 3.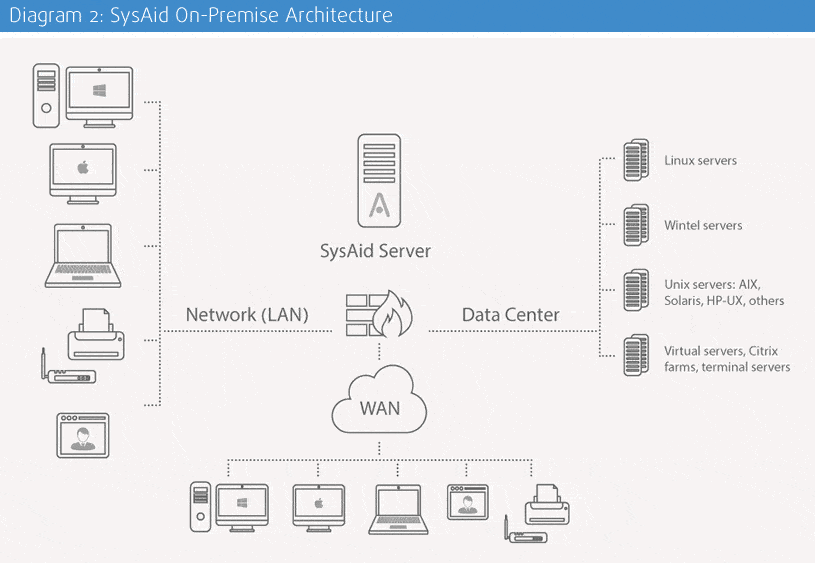 SysAid Cloud data centers are located in:
USA – US-AWS is hosted on three availability zones in Virginia with Amazon Web Services.
Europe – EU-AWS is hosted on three availability zones in Ireland with Amazon Web Services.
Asia Pacific – AU-AWS is hosted on two availability zones in Sydney with Amazon Web Services.
In ITSM.tools' opinion, SysAid's use of Amazon's industry-leading AWS offering provides customers with a higher level of assurance regarding cloud, as well as leaving SysAid to focus on its product over data center management.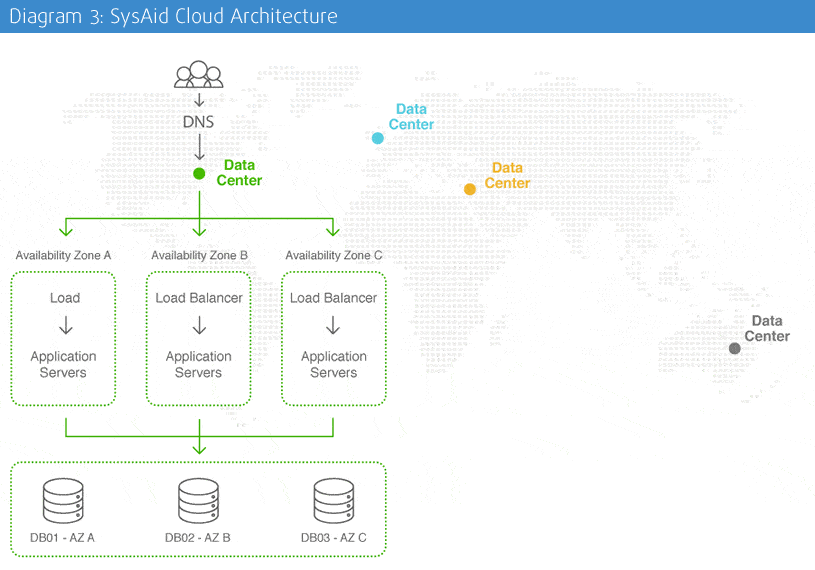 Solution Security & Scalability
Data is encrypted at rest, password fields are saved encrypted in the database, and SysAid offers a full SSL connection to ensure that the communication is encrypted.
SysAid complies with the following regulatory standards: HIPAA, SOC 1/SSAE 16/ISAE 3402 (formerly SAS70), SOC 2, SOC 3, PCI DSS Level 1, ISO 27001, FedRAMP(SM), DIACAP and FISMA, ITAR, FIPS 140-2, CSA, and MPAA. The compliance document for SysAid Cloud can be found here.
Details on SysAid Cloud's availability and business continuity targets and processes can be found here.
Latest Release
SysAid's release cadence is biannual for SysAid On-Premise – the last releases were Summer and Winter 2016. SysAid Cloud follows a regular monthly release cycle.
The most recent releases brought new capabilities that include: a new reporting tool, a BI Analytics module powered by Qlik, visual workflows, multiple new third-party integrations – including Nagios, Slack and Trello – REST API, and a Mac agent.
Solution pricing and implementation
300 SaaS users, including all SysAid add-on costs (monitoring, password reset utility, tasks & projects, etc.), and 5000 business users would cost US$25,000 per annum. The same 300 users with perpetual licensing, including all SysAid add-ons, would be US$75,755. Maintenance and support is included in this price for the first 12 months, then there's an additional 20% maintenance and support cost from the second year onwards. Patch management would be an additional US$11,642 per annum for 5000 business users. In our opinion, the core SysAid capabilities offer one of the most keenly-priced mid-market help desk and ITSM solutions on the market.
There are no additional costs for upgrades – it's part of both the annual support and maintenance costs and the SaaS subscription fee. SysAid states that the majority of customers have an active maintenance and support contract.
SysAid offers a number of free, pre-built connectors https://www.sysaid.com/it-service-management-software/third- party-integrations, with connectors and special integrations usually managed as part of a paid-for professional services engagement if needed. The costs vary dependent on the complexity and the amount of time needed for the specific integrations, but typical costs are US$2,500 to configure any existing SysAid connectors, and up to US$5,000 to develop a new connector.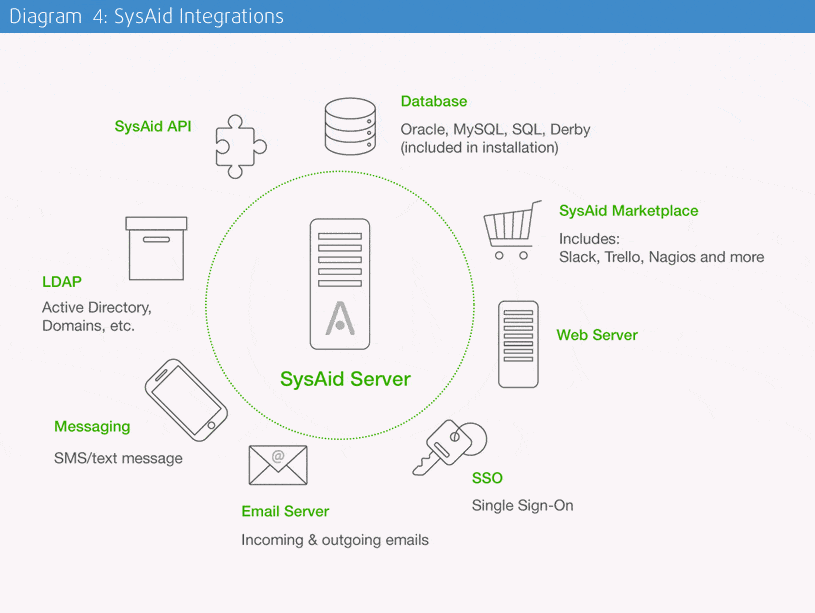 Deployment
SysAid states that a small customer implementation can be up-and- running in several hours, using the approach of starting with the best practices and suggested out-of- the-box settings that SysAid comes with. The steps that follow include fine-tuning and deepening the implementation on-the- go. Medium-sized projects can take a few days to plan, with a "quiet launch" achieved within a few days and a full rollout within 1-2 weeks. Larger-sized projects will vary based on the customer's timeline and constraints rather than the team size or project complexity. This is usually between a few weeks to a couple of months.
SysAid professional services can help customers with:
Installation, including the application server, database setup, email, and LDAP
Setting up service level agreements (SLAs) and the SysAid Knowledge Base
Embedding the self-service portal in customer's internal portal/website
Setting up change management and problem management processes
Setting up and customizing the self-service portal
Setting up service desk settings (escalations, SLAs, working hours, routing emails, surveys, etc.)
Launching network discovery and SysAid Agent deployment
The initial setup of the CMDB
Setting up self-reset password services
Setting up monitoring
Setting up reporting and dashboards, schedule reports, and the creation of new ones where necessary.
These tasks/deliverables are accomplished within 3-5 days onsite and additional off-site support can be provided depending on the scope.
SysAid can be installed, set up, and operated by a single IT person. In larger organizations, customers will often opt for role-based permissions with a few team members, each in charge of different areas such as asset management, service desk, reports, etc.
Post-Sales Support
Technical support is provided via telephone, chat, and email/online form with additional support available via the SysAid Customer Community and the SysAid Academy, which houses tips and tricks, best practice advice, and courses. SysAid states that, during the last year, it achieved on average a 50% or faster response time than the SLA obligations across its Gold, Silver, and Bronze support packages. So, for example, with the Gold package SysAid is obligated to respond within one hour for a critical incident but the actual average response time was less 30 minutes.
All upgrades support backward compatibility and SysAid states that, in the cloud, customer upgrades are seamless and take minutes. For on-premise, it states that the upgrade wizards take between a minute and several minutes depending on the customer's database size and server power.
Solution go-to-market strategy
SysAid has customers of all sizes, across all industries, and in 42 countries. It has strongest traction in SMB-sized organizations – with anywhere between 5 and 50 users, in English-speaking countries. The majority of SysAid's revenue is generated from direct online sales.
Partner Ecosystem
SysAid's key partners include:
Consist, Israel – with a portfolio of around 500 customers that includes Motorola Solutions, Technion University, and Cellebrite.
Irimi, Italy – with a portfolio of around 300 customers that includes United Colors of Benetton and NoemaLife S.p.A.
In our opinion, SysAid would benefit from a broader global partner ecosystem – especially in terms of supporting regions where it has no presence and in landing larger deals.
A key technology partner is Qlik, a leading BI software vendor, which provides a built-in BI solution for customers to analyze their ITSM data.
Key customers
The SysAid Customers webpage – https://www.sysaid.com/customers – includes case studies and testimonials from some of SysAid's key customers. It also states that "Over 10,000 Companies Rely On SysAid.״
According to SysAid, the approximate geographical split of customers is as follows:
North America – 45%
Europe – 29%
South America – 11%
Australia and New Zealand – 5%
Africa – 4%
Middle East – 4%
Asia – 2%
Solution summary
SysAid is an IT help desk and ITSM solution for the high-end of the mid-market down to small organizations. It supports the core ITSM processes and provides a wealth of additional IT management capabilities that aren't usually seen in similar ITSM offerings.
In ITSM.tools' opinion, given SysAid's ongoing focus on reporting and analytics, the solution is particularly suited to IT organizations focused on better understanding and improving operational performance and service delivery. Finally, SysAid's 30-day free trial offers customers a low-risk capability to assess the solution using their own use-case scenarios.
Company overview
SysAid is a privately-owned company founded in 2002, by Israel Lifshitz, with a vision to make the lives of IT professionals around the world easier, and to make their IT environments and IT service delivery better. SysAid states that:
"We have always and will continue to provide affordable, innovative, and intuitive ITSM solutions aligned with industry best practices, to help our customers through automated business processes. Our customers' success is our success and we continue to grow as our customers grow, inspired by their evolving needs in constantly changing business and IT landscapes."
More information is available:
An Introduction to SysAid presentation
A SysAid technical presentation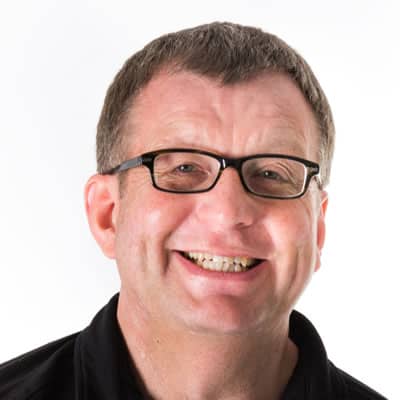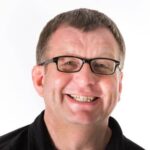 Principal Analyst and Content Director at the ITSM-focused industry analyst firm ITSM.tools. Also an independent IT and IT service management marketing content creator, and a frequent blogger, writer, and presenter on the challenges and opportunities for IT service management professionals.
Previously held positions in IT research and analysis (at IT industry analyst firms Ovum and Forrester and the UK Post Office), IT service management consultancy, enterprise IT service desk and IT service management, IT asset management, innovation and creativity facilitation, project management, finance consultancy, internal audit, and product marketing for a SaaS IT service management technology vendor.