What is a maturity model? At its most basic, the typical maturity model becomes the ability of an organization for continuous improvement in a particular discipline. The more mature an organization's, well, maturity, the better the chances that incidents or errors within the organization lead to improvements in quality. This approach also applies to IT service management (ITSM).
Most ITSM maturity models are designed to assess people and culture, processes and structures, technology, and other elements. But this is beyond the basics. Getting down to the ground level, an ITSM maturity model measures an organization's serviceability and capability to meet the ever-increasing expectations of end users.
An ITSM maturity model helps business leaders assess their maturity level and provides critical insights into which service areas need improving. There are two internal and external business focuses of service departments – those that are cost-driven and those that are value-driven.
Getting down to the ground level, a maturity model measures an organization's serviceability and capability to meet the ever-increasing expectations of end users. Here @TOPdesk explains more. #ITSM
Click To Tweet
The ITSM maturity model health check
If you want to measure the maturity of your organization, conduct a health check. It allows you to think big, but identify small feasible steps to start with. The health check consists of in-depth interviews with key stakeholders and an assessment of the available data within the service desk. Plot these outcomes against five ITSM maturity model dimensions: people and culture, process, integration and automation, customer, and supplier.
An ITSM maturity model health check provides an objective overview of where the organization is in respect of service excellence maturity and the areas that can be improved. Its overviews allow leaders to enhance the maturity of their service organizations while embedding this in the organization's strategy to maximize the value for end users.
The five maturity levels in an ITSM maturity model
These are shown in the following ITSM maturity model diagram with the descriptions below.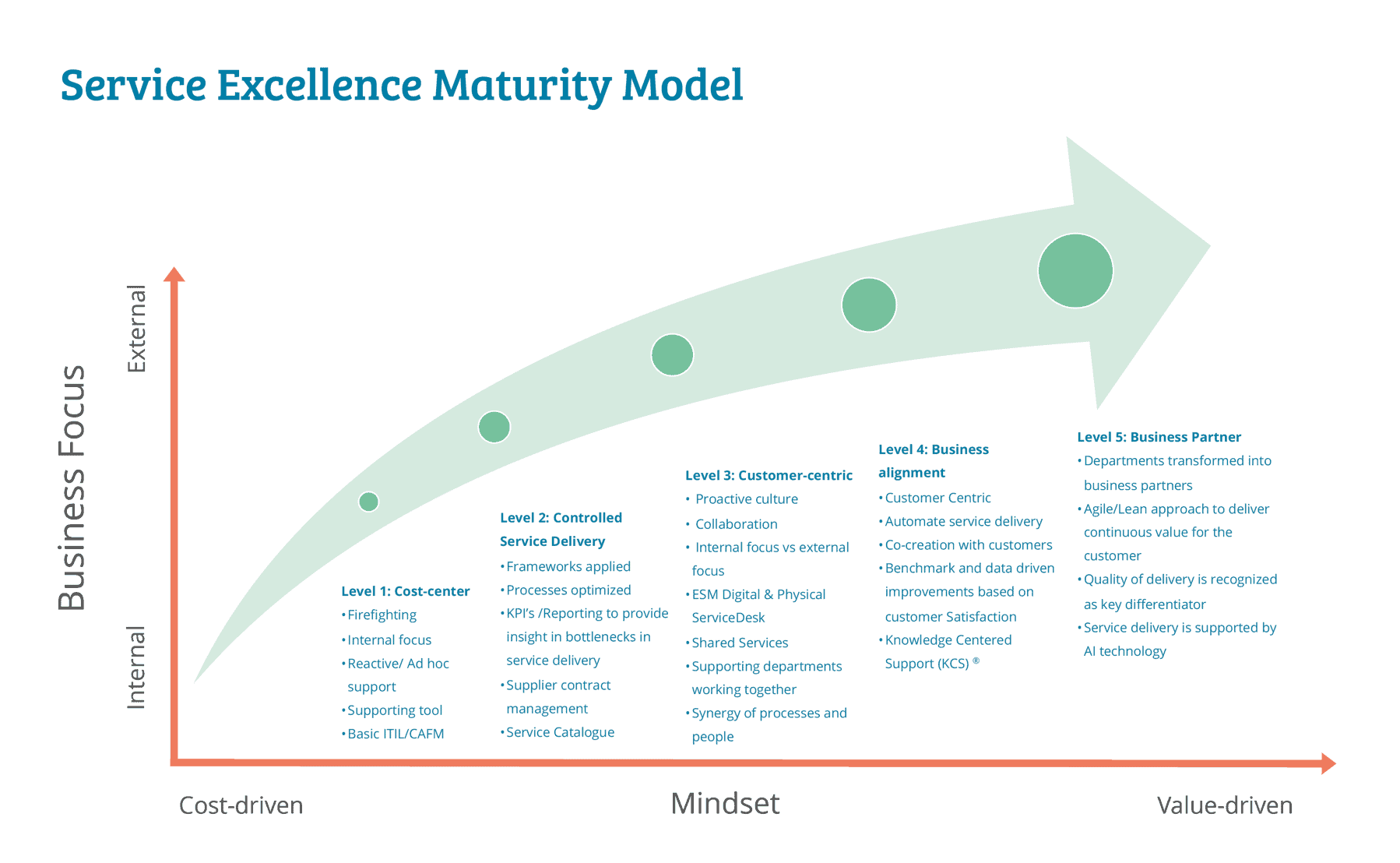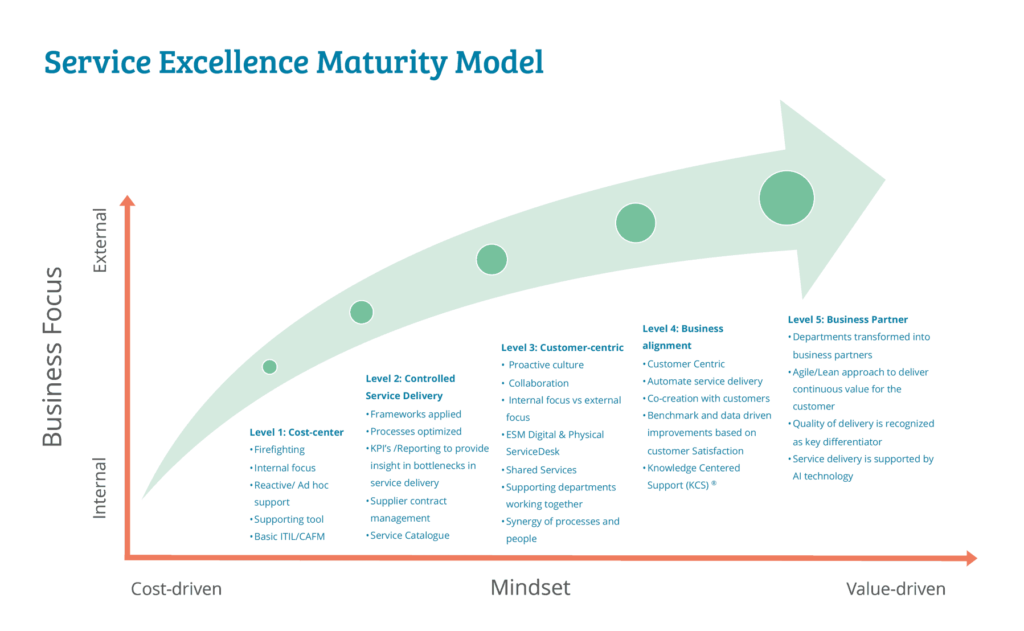 Cost center is level 1
At level 1 on the ITSM maturity model, the various service departments in your organization aren't aware of each other. They operate in isolation and work independently to manage costs. These siloed departments use disparate service management tools, and their processes are ad hoc and not connected. Optimizing service delivery in these departments is not seen as essential and remains costly.
A maturity model health check provides an objective overview of where the organization is in respect of service excellence maturity and the areas that can be improved. Learn more here. #ITSM
Click To Tweet
Controlled service delivery is level 2
An organization at level 2 in the ITSM maturity model has processes and guidelines in place and has appointed process owners. However, the service departments provide on-demand support, which is usually characterized by a high degree of firefighting. But the various service departments remain isolated with little or no collaboration between them. In level 2, there's a strong focus on the supply-side of the service departments, mainly driven by cost savings.
Customer-centric is level 3
At level 3 on the ITSM maturity model, you've found yourself having moved away from a silo-level approach, bringing together all service departments to form an enterprise-wide strategy. At this level, focus shifts from only managing costs to customer-centric approaches. Multiple service departments collaborate through a single enterprise service management solution to provide a one-stop-shop experience for the customer. At level 3, suppliers are involved in the process of supporting customers' complete interfaces. And key metrics are in place for feedback collection to improve your service delivery.
Business alignment is level 4
At this point in the ITSM maturity model, the organization has a unified vision of its service management processes and an enterprise-wide strategy – where annual goals are based on customer experience metrics to improve service delivery continually. Here, agile core teams help enhance service delivery and support initiatives and projects that lead to a better end-user experience. The focus is on improving end-to-end processes, providing multi-channel support, and providing a single view of the end user.
A business partner is level 5
At the highest level of the ITSM maturity model, quality delivery by service departments is a key differentiator. Customer service is continually improved by delivering experiences and insights where, when, and how the customer wants them. At level 5, the organization's employees are empowered to take action to innovate and transform service departments into a business partner, providing value by continually gaining a competitive edge for the entire organization.
Defining which ITSM maturity model level to achieve
Defining the ITSM maturity model level to achieve is based in large part on the organization itself. These achievements must link to the company-wide objectives. For example, if the IT department's goal is to take steps toward becoming a level 5 business partner, you need to be fully aware of that goal as a business.
"Assess current IT maturity (relative to business need), paying attention to processes, people factors, supporting technology, and management disciplines. Devise a clear, prioritized roadmap for developing IT maturity to match up with business demands, taking into consideration any current plans for business growth or transformation," AXELOS says.
Consider all current plans for growth, transformation, and the reduction of siloed processes in your ITSM maturity model assessment.
Focus IT management technology requirements on what enables the IT maturity roadmap. The roadmap leads to the advancement of an organization on the ITSM maturity model, which is a vital component of the organization's journey on the road of continual improvement.
At TOPdesk, we've defined the ITSM maturity model as a strategic lever that helps us better understand where our clients are in their service journeys. Based on the maturity of each client we serve; we improve the chances of identifying and eliminating incidents or errors within. By being aware of our client's place on the road of improvement, we're able to assess all service processes, including people, culture, structure, and technology.
If you'd like to add your opinions on creating an ITSM maturity model or to find out more, then please leave a comment below.
If you enjoyed this ITSM maturity model article, the following ITIL article might be of interest too…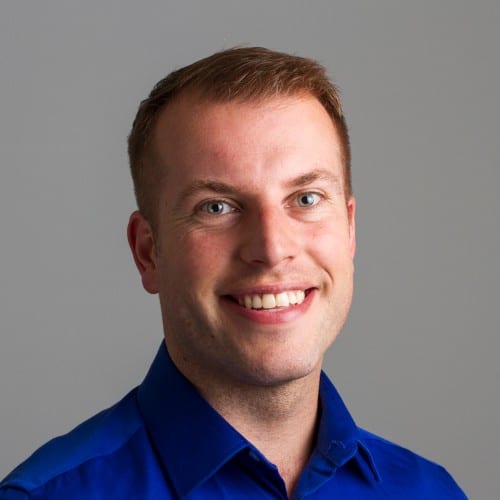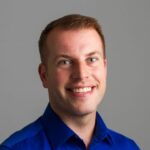 Ron van Haasteren is the international culture strategist for TOPdesk worldwide. As a passionate promotor, Ron strives to inspire service management professionals to focus on how a great company culture adds value, by engaging employees, and helping them deliver service excellence in return. Ron's also an expert on how to keep the company culture alive, and get the core values known by all employees. As TOPdesk's go-to culture expert, he's a valuable stakeholder in the story of the company, and an important player in the onboarding process of new employees by making sure the core values are known and understood. Ron has over eight years of experience in service management, communication, company culture, and employee engagement. On these topics, Ron is a public speaker for many industry leading events in Europe.