Solution overview
Alemba is an organically-grown and profitable Private Limited Company that offers IT service management (ITSM), IT asset management (ITAM), and enterprise service management solutions (ESM) to mature, large-scale organizations. In July 2014, Alemba took ownership of the VMware Service Management product and now has full control of the solution's future development, license provision, and global services and support. vFire is designed with usability in mind which, in ITSM.tools' opinion, helps with its applicability to ESM scenarios. Usability is also enhanced through an integration platform which Alemba states makes vFire the center of automation for ITSM. Alemba vFire v9.7 has been available via both cloud hosted and on-premise delivery models since February 2017.
Key strengths, improvement opportunities, and product roadmap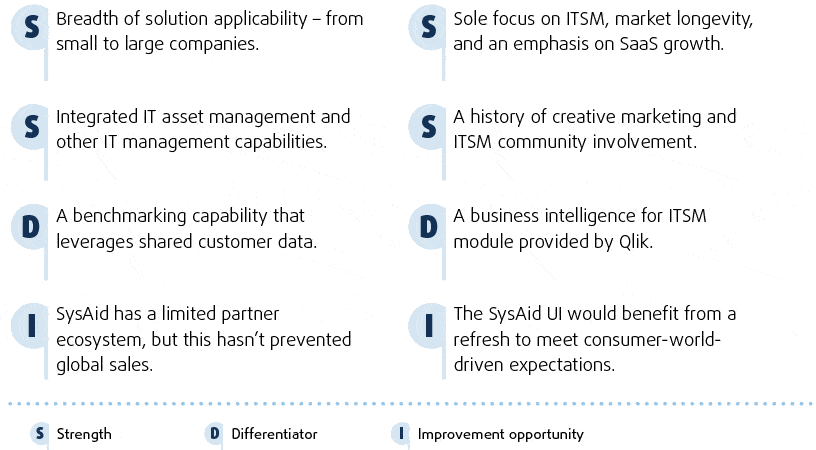 Key Differentiators
Federated configuration management database (CMDB) and auto-population capabilities (via third-party discovery tools and systems), pro-active problem management capabilities, the Alemba Rapid Start implementation methodology, graphical workflow engine, and integration platform.
Solution Roadmap
The vFire product roadmap includes: a new Project Management module and enhanced mobile apps by the end of Q2 2017.
Solution functionality
Alemba's mission is: "To create the next generation of enterprise service management software, putting the user experience at the heart of everything we do"; with it marketed as an enterprise-level ITSM solution. Usability is also a key message, with Alemba stating that the consumer-centric interface of vFire removes one of the main barriers with new ITSM tool projects – organizational resistance to new technology and process change. In ITSM.tools' opinion, the UI and Alemba's overall approach to how their solution is "consumed" is a key differentiator in a market where what service desk agents see, and how they work, hasn't changed enough over the last decade. It also makes the solution more applicable for use outside of IT in ESM scenarios.
Core ITSM capabilities beyond incident, problem, and change management include:
Self-Service Portal and Service Catalog – which Alemba describes as a one-stop shop for fulfilling end-user needs.
Knowledge Management – not only for service desk agents, a self-service knowledge bank helps end users to help themselves without the need for IT personnel involvement.
A federated and visual CMDB – information in existing third-party asset discovery and management tools, and also user directories, is automatically imported and consolidated.
A visual workflow engine – any business process can be mapped and automated.
An integration platform – Alemba provides out-of-the-box connectors to common auto-discovery, event management, service desk, and cloud automation tools.
Additional ITSM capabilities that, in our opinion, are more likely to be employed by larger organizations – in particular service portfolio, event, and availability management.
ITIL Process Support
Alemba states that it supports the 26 ITIL processes as follows – denoted as one of completely (C), partially (P), via another company offering (O), via a third-party offering (T), or not supported (N):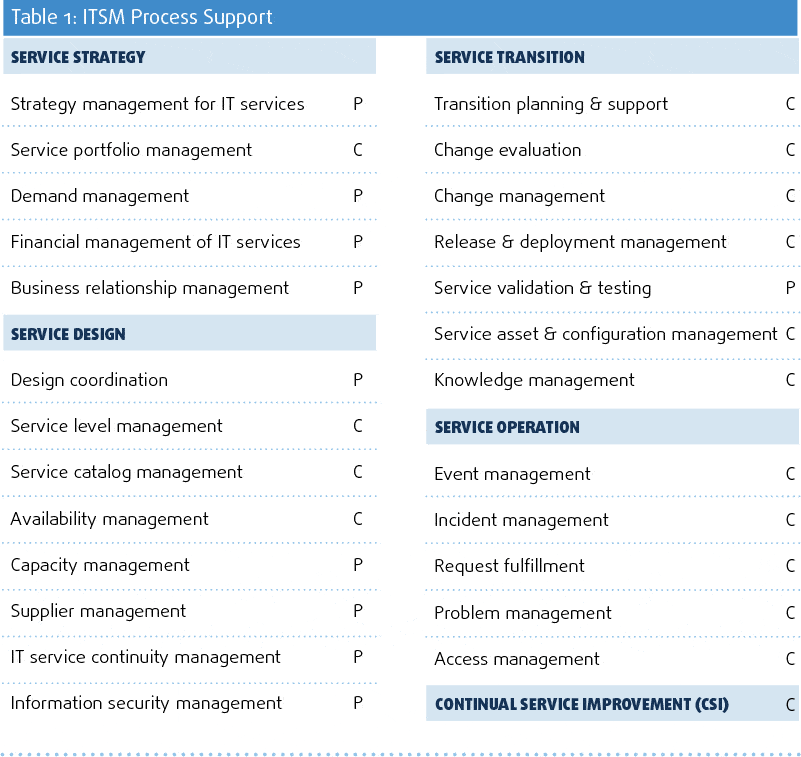 Source: Alemba
Alemba's vFire has been awarded Pink Elephant's PinkVERIFY 2011 certification for eight ITIL processes:
Incident management
Problem management
Change management
Knowledge management
Availability management
Service level management
Service catalog management
Request fulfillment
It ships in English by default. As of version 9.8 it will be translatable into any other language.
Reporting & Analytics
vFire offers three reporting capabilities:
vFire Report Suite – there are 188 canned reports across incident, problem, change, configuration, availability, knowledge, and service level management. It also contains an in-built report designer that can be used to create custom reports.
vFire Wallboard – this is an unlicensed web-based portal for consolidated viewing of critical key performance indicators (KPIs) in real time.
vFire Dashboard – service desk agents can build their own dashboards that reflect information that's important to them in real-time.
Additional Capabilities of Note
ITAM – Alemba provides a number of ITAM capabilities that allow customers to better control their software licenses and commoditized hardware items across the asset lifecycle (from acquisition through to disposal).
Chat – end users can request support, and chat with service desk agents in real time, using a consumer-like chat capability. In the background, each chat session always logs a new ticket.
Alemba Rapid Start – the solution ships with a pre-configured, ITIL-aligned suite of processes and templates covering incident, request fulfilment, problem, service level, knowledge, change, release and deployment, service configuration and asset, service catalog, and availability management.
Solution technology
Alemba vFire is offered via both cloud (SaaS) and on-premise delivery models. Alemba states that the new customer split for the last 12 months is 40% SaaS and 60% on-premise. The Alemba Cloud uses VMware virtualization technologies and VMware Edge Gateway firewall technology in providing both customer administered and Alemba administered SaaS offerings.
Solution Architecture
vFire uses the Microsoft platform and thus requires a Microsoft IIS application server and a Microsoft SQL database server to operate. The recommended application server is Windows 2012 Server, the recommended database platform is an MS SQL Database 2014.
The Alemba cloud architecture is shown in Diagram 1.
The Alemba Cloud data centers are located in:
USA – California, Nevada, and Texas
Europe – UK and Germany
Asia-Pacific – Japan and Australia (Melbourne, Perth, and Sydney)
Alemba offers vFire Mobile, an analyst app, which is available on Android, iOS, and Windows 8.1. If end users wish to use self-service on their mobile devices, then there's no impact to licensing as the self-service portal is license free.
Solution Security & Scalability
vFire supports https: with LDAP over SSL. And Alemba uses Godaddy SSL certificates for the cloud hosted solution, along with VMware Edge Gateway security. It also provides the following methods for data encryption, security, and communications:
Data encryption/security – SSL (TLS 1.2) encryption on the application IIS virtual directory encrypts information between the server and the client. Transparent Data Encryption (TDE) is the primary SQL Server encryption option. Backups for databases that use TDE are also encrypted.
Communications – In addition to supporting SSL (TLS 1.2) internet encryption protocols via Windows 7 Internet Information Server (IIS), password data can be encrypted. It also supports Windows-based Active Directory authentication for VPN use.
vFire employs load balancing for system scalability and uses a Microsoft SQL database which can grow to the maximum size permitted by Microsoft. If deployed on-premise, the system supports load balanced Microsoft ISS application servers and replicated Microsoft SQL databases to allow the customer to scale as the user base grows. For example, a large US supermarket has over 1000 IT users, 15000 portal users, and logs 90000 tickets a month.
In the cloud environment, the service level agreement (SLA) availability of the vFire application is 99.95%. According to Alemba, the infrastructure is never down for maintenance due to built-in resilience offering 99.95% availability for infrastructure.
Latest Release
There's a new release every eight weeks, with the next releases at the time of writing:
v9.8: May 2017
v9.9: June 2017
v9.10: August 2017
Alemba considers vFire's best new capabilities released in the last 12 months to be a new self-service interface and chat.
Alemba vFire's pricing & implementation
vFire on-premise is sold as a perpetual license for concurrent and dedicated users. The use of vFire Self-Service Portal and reporting dashboards don't require a license and are available to all customer personnel. In our opinion, the availability of a concurrent licensing option can help customers with the overall solution affordability. The cloud-delivered solution is licensed on a per-user monthly charge, and is again available with both concurrent and named licenses.
Alemba states that it sees a high take up of concurrent licensing, with a 40% concurrent and 60% named split. The on-premise platform can be purchased with a single license however the vFire Cloud platform requires a minimum deal size of 20 named users.
The standard maintenance and support package costs 21% per annum of the cost of licenses. There is a 15% discount if maintenance and support is purchased in three-year units. The maintenance and support contract provides product remediation governed by an SLA, all software upgrades, and all system patches. Alemba states that 99% of customers who use vFire are on a current support contract – with 40% of customers on a three-year contract and 60% on a one-year contract.
Post-implementation, customers can also sign up for a vFire-Now contract where their system will be administered by Alemba product specialists – removing the need for a dedicated system administrator within the customer organization.
Deployment
Alemba recommends a phased approach to vFire deployment. Where immediate strategic goals are met within phase one and the system is then evolved to meet further requirements in phase two and beyond. Deployment will usually take five days for the core processes and then typically 10-15 days to add customer-specific processes.
While many of the pre-built ITIL processes, templates, and values created by default offer a solid foundation for new customers (including categorizations, a pre-built service catalog, and a portfolio of SLAs), Alemba also offers the Alemba Rapid Start system (see Diagram 2.). This allows the customer to systematically amend and configure the pre-built processes, templates, and default values to their exact requirements in conjunction with Alemba professional services.
Alemba states that Rapid Start eliminates the "blank page" issues often encountered with ITSM tool implementations, and reduces "time-to- value," delivery risk, and cost; and, because vFire is delivered "ready for use", Rapid Start commences at the production pilot iteration.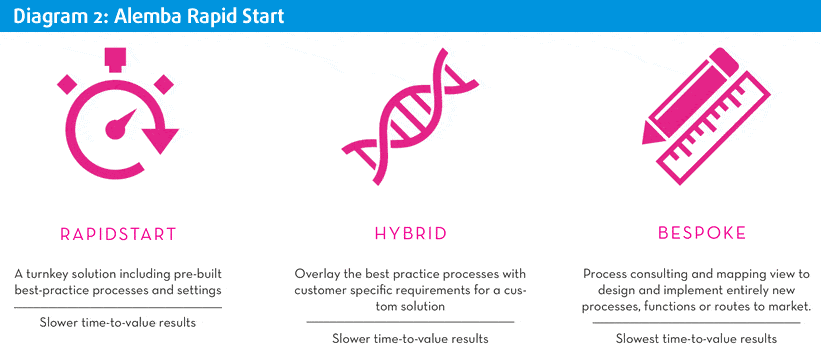 Customer training and education is provided in a number of ways:
User training – Alemba provides on-site training, adopting a "train-the- trainer" approach.
Video training – the train-the- trainer course can be recorded, incorporating customer procedures in addition to how to use the solution.
Supporting documentation – this includes system management user guides, general user guides, installation guides, and release documentation.
Ongoing Alemba webinars – these cover various aspects of the vFire toolset. For example, problem management and its usage, effective use of change management, and making the most out of service level management.
Integrations
vFire has multiple mechanisms of bi-directional integration, from simple one-off or scheduled CSV imports (e.g. assets, people, third parties, etc.) through to SQL database packages and a range of third-party external connectors for tool integration. These cover a wide spectrum of IT and business tools such as asset discovery, network discovery, event management tools, other service desks, cloud automation tools, finance systems, bug tracking/effort software, and customer relationship management (CRM) systems.
For example, vFire's federated CMDB has 16 out-of- the-box connectors for automatic CMDB population including bi-directional integration with physical asset discovery tools, such as Microsoft SCCM or Snow, and virtualized infrastructure such as VMware vCenter. Its federated connector approach allows multiple sources of data to be connected, with data normalized and presented inside the application without replication based upon any type of criteria. Real-time drill back is also provided.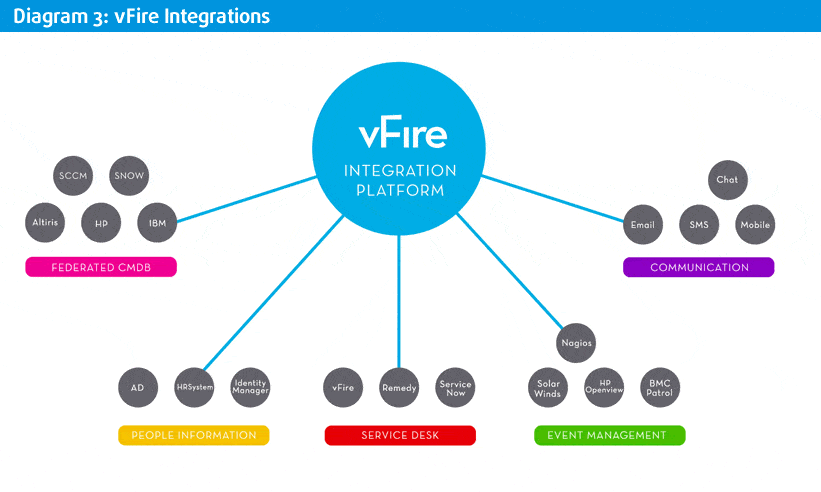 Post-Sales Support
The vFire standard-hours support contract operates between 8am and 6pm, Monday to Friday, with the Alemba service desk operating across the globe on a 24 by 7 basis. The three service desks that deliver this are located in London (UK), Sydney (Australia), and Irvine (USA) and operate in a "follow-the-sun" operating pattern.
Customers can log issues via:
Telephone
Online customer self-service portal
Email
Customers can also use the self-service portal to access: software downloads, new online help, feature suggestions pages, and legacy versions documentation
Additionally, customers have a dedicated Alemba account manager who arrange bi-annual review meetings as a minimum that cover SLAs, user experience, other feedback, evolving the toolset, and anything else the customer wishes to discuss. In ITSM.tools' opinion, it's great to see account management front-and- center in Alemba's post-sales support strategy as sadly, in the software market per se, such relationship building is often limited to conversations re renewals and upselling.
Alemba vFire's go-to-market strategy
Alemba's target market for vFire is horizontal – IT departments across a wide range of sectors including education, healthcare, finance, and government – and global. Alemba states that deals are not limited to a particular organizational size, but its scalability and functionality make it ideal for larger, enterprise-scale customers; with the route to market approximately 80% direct and 20% through partners.
Table 2: Alemba's Partner Ecosystem
Dell (Global)
Code Red (UK)
SCC (UK)
SoftCat (UK)
Carahsoft (USA)
EMC (USA)
SHI International Corp (USA)
ION Management Solutions (Philippines)
Data3 (Australia)
Dimension Data (Australia)
In Front (Australia)
Lida Solutions (Australia)
DataCom (New Zealand)
HP (N. Ireland)
Comparex Netherlands & Belgium
I.A.N. (Italy)
RMG (Saudi Arabia)
Victorock (Kenya)
Corporate Business Systems (Kazakhstan)
NewTech Distribution (Kazakhstan)
Terralink (Kazakhstan)
UBS (Kazakhstan)
Alemba is a VMware Technology Alliance Partner. It's also a Microsoft Gold partner for application development.
Key customers
Alemba customer case studies can be viewed at/downloaded from: http://alemba.com/customers. Example customers include:
Alemba's largest geographic customer base is currently the UK. However, it's focused on expanding its global customer base, particularly in Australia and New Zealand, and the USA:
Africa = 1.3%
ANZ = 29.2%
Asia = 0.4%
Middle East = 0.1%
Europe = 10.7%
South America = 0.8%
UK = 29.0%
US = 28.6%
Alemba vFire solution summary
vFire supports all the commonly-adopted ITIL processes and more; with a strong emphasis on user experience in meeting the new, consumer-world- driven, expectations of enterprise software. In ITSM.tools' opinion, Alemba vFire is a "modern alternative" to traditional tools for upper mid-market and enterprise organizations looking to invest in a new ITSM solution that both IT and end users will want to use and exploit.
The UI stands it well for ESM opportunities in large organizations, and the concurrent licensing option is well suited for the educational and government verticals in particular. For smaller organizations, the absence of a free trial might dissuade those that prefer to "try before they buy," versus creating a proof of concept, but this a sales and marketing, and not a tool-related point.
Company overview
Alemba was founded in 2007, initially focusing on support for the infraEnterprise and VMware Service Manager ITSM tools. In July 2014, Alemba took ownership of the VMware Service Management product, with VMware Service Manager now licensed as an Alemba software product and known as vFire.
More information is available at: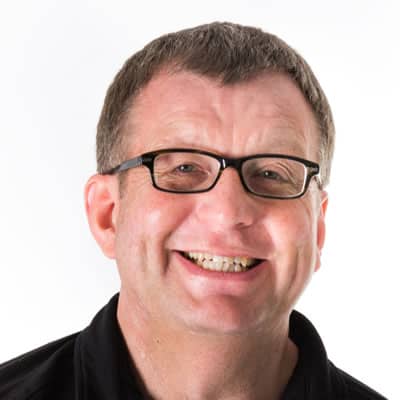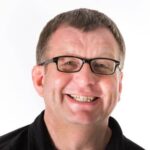 Principal Analyst and Content Director at the ITSM-focused industry analyst firm ITSM.tools. Also an independent IT and IT service management marketing content creator, and a frequent blogger, writer, and presenter on the challenges and opportunities for IT service management professionals.
Previously held positions in IT research and analysis (at IT industry analyst firms Ovum and Forrester and the UK Post Office), IT service management consultancy, enterprise IT service desk and IT service management, IT asset management, innovation and creativity facilitation, project management, finance consultancy, internal audit, and product marketing for a SaaS IT service management technology vendor.