If you haven't heard the growing volume of whispers, let alone the shouts, related to Customer Experience (CX) and IT service management (ITSM) – and the IT service desk – then you really need to stop talking and listen more. Sorry if that was rude, but I was struggling to finish the sentence quickly.
There's no doubt in my mind that employees – your "end users" – are demanding more from corporate service providers (so not just IT). It's the "consumerization of service" – which is both more impactful and scarier than the "consumerization of IT" that plagued (and improved) many IT departments, as personal technology surpassed its corporate equivalents.
This article takes a quick look at CX before requesting that you kindly complete a survey to help us see the future of Customer Experience and the IT service desk.
Making sense of Customer Experience and the corporate IT service desk
It's easy for people to make predictions about the future. But being right in your vision (of the future) is incredibly difficult (and helped by the fact that bad predictions are rarely looked back on and lambasted for being wrong).
What we can, and often do, do though is to look to our peers – and their aggregated plans, actions, and opinions – to understand how they are thinking about the future and the plans they have in place to get there.
You've probably read a number of reports, or even participated in the supporting surveys, around hot topics such as:
Artificial intelligence (AI) and automation
Digital transformation
Internet of Things (IoT)
Service integration and management (SIAM)
But have you ever seen a survey and report solely related to CX and ITSM (and the IT service desk)?
I haven't.
The signs of growing adoption are already here
Existing statistics from the Service Desk Institute (SDI) and HDI – such as what's currently driving ITSM toolset changes (it's delivering a better Customer Experience according to HDI) – definitely point to the growing importance of CX in the context of the IT service desk.
And our own survey into what ITSM.tools readers want/need help with in 2018 (and beyond) shows CX as a top-5 item (based on respondents choosing 5 options from a list of 25):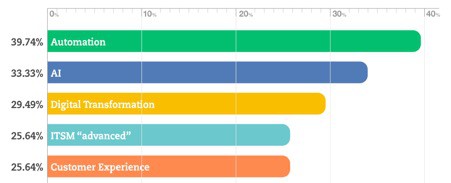 Source: https://itsm.tools/2018/03/07/the-5-hottest-itsm-trends-and-topics-for-2018/
Plus, there's more and more talk of IT departments and other organizations replacing their service level agreements (SLAs) that they use to manage their relationships with customers/end users with experience level agreements (XLAs).
But there's nothing being widely shared – survey-wise – that digs deeper into: CX's relevance to corporate IT, the impact on service desk operations and culture, the required evolution of service level agreements, what people are doing to improve CX, etc.
That is until now (well, something is happening thanks to SDI).
SDI is currently running a CX and ITSM survey
SDI is seeking to understand the current and future state of Customer Experience in the context of internal IT support – both to offer insights into the level of interest and to offer help for those organizations looking to understand, consider, and potentially improve the CX they offer.
Their survey is described as follows:
"We would be delighted if you could spend around 5-10 minutes* completing this survey about your service desk. SDI research suggests that customer satisfaction is the most significant indicator of success on the service desk. This could potentially indicate that traditional SLAs will become obsolete, as CX becomes the new agreement between service desks and their customers."
There are 27 multiple-choice questions, including the demographic-related questions, and SurveyMonkey states that the average completion time for the survey is actually 6 minutes* (just so you know). At the end of the anonymous survey, you'll also be asked whether you want to receive a copy of the final report (once completed).
Thus, you can be among the first to receive a copy of the SDI report, receiving the latest data and information on the impact of Customer Experience on IT support for free – well, in return for 6 minutes of your time and email address.
So please take the SDI CX survey to help both yourself and the wider ITSM and IT support community.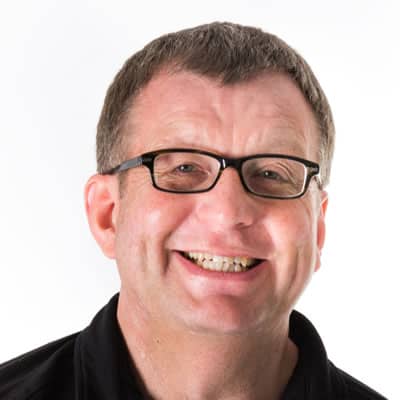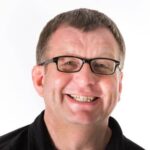 Principal Analyst and Content Director at the ITSM-focused industry analyst firm ITSM.tools. Also an independent IT and IT service management marketing content creator, and a frequent blogger, writer, and presenter on the challenges and opportunities for IT service management professionals.
Previously held positions in IT research and analysis (at IT industry analyst firms Ovum and Forrester and the UK Post Office), IT service management consultancy, enterprise IT service desk and IT service management, IT asset management, innovation and creativity facilitation, project management, finance consultancy, internal audit, and product marketing for a SaaS IT service management technology vendor.