Experience matters. It's true on so many levels, not just CX. And for those of us working in the IT service delivery and support arena, it's something that has been slowly building – from an employee experience perspective – as a business-improving antidote to the decade-old need to "do more with less."
Surely, we can't continue the suboptimal strategies and behaviors that see us cutting IT costs in a way that has a potentially larger detrimental effect at an organizational level? Think about it – for every dollar that's cut out from support-ticket handling costs, say, do we know how much it costs business operations (from either an employee productivity or critical service availability perspective)? Or, conversely, if we were to spend a dollar more on IT support how would this be magnified at a business level?
There's a need for us to go even further than the mindset of "supporting the people, not the IT" to be more focused on the business-level outcomes achieved through what we do in IT. But as you'll already know, understanding how this is done, and then doing it, isn't easy – otherwise, we'd all be doing it already.
But help is out there. Including this article which offers up some of the key learning points from Refresh19 London – a Freshworks customer event.
Leveraging external customer support ideas and innovations for ITSM
The Refresh19 event is aimed at a mixed audience – made up of both externally and internally-facing service and support professionals. It means that there are sessions, including keynotes, that talk to providing a better (external) customer experience – and it's a great opportunity to identify ideas and innovations that can be easily transferred into IT service management (ITSM) and internal support.
Two keynote points from Freshworks Founder and CEO Girish Mathrubootham definitely fit the bill here. The first was built on an iPhone analogy that really hit home when Girish stepped it up to how Google helps us to "do what we need to do" without us asking for help:
"Think about what Google does to help you based on what it knows about you, e.g. leave now to make a flight. A business needs to bring the data it has in various system silos together to help customers better too."
(All presenter quotes used in this article were likely paraphrased for social media use.)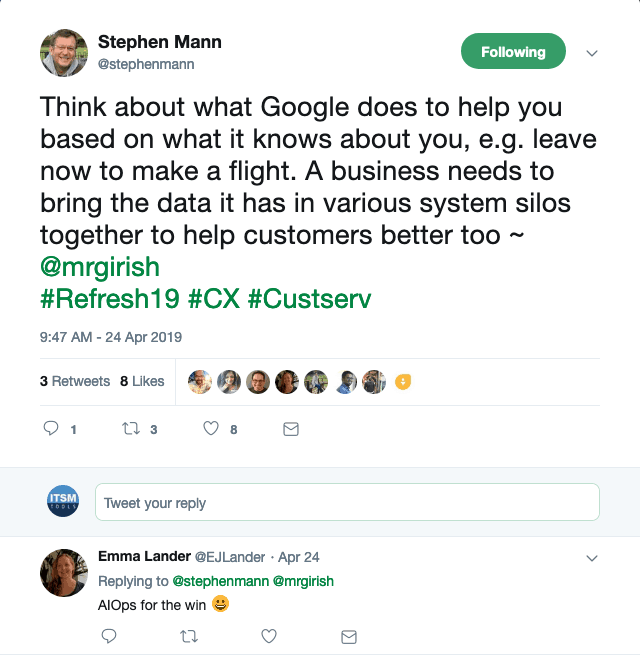 And this doesn't only apply to external customer service and support – where customer details are commonly held within disparate corporate systems – we could also do more to understand more about the employees we serve within IT. Whether this is related to better data management and access, or simply understanding more about what's important and their key expectations of IT service delivery and support. Otherwise, we're simply guessing about what's ultimately needed by the employees we serve.
The second was that:
"Omnichannel support might offer customers choice but does it also offer up a fragmented support experience (thanks to disconnected systems and people)?"
Think about it – while omnichannel support is great because it offers customers or employees choice, but what about the potential issues we conveniently ignore. Whether it's the obvious friction at handover points – such as in my article about chatbots. Or the differing levels of service and experience across the various IT access and communication channels – with this best shown using this single chart from HappySignals: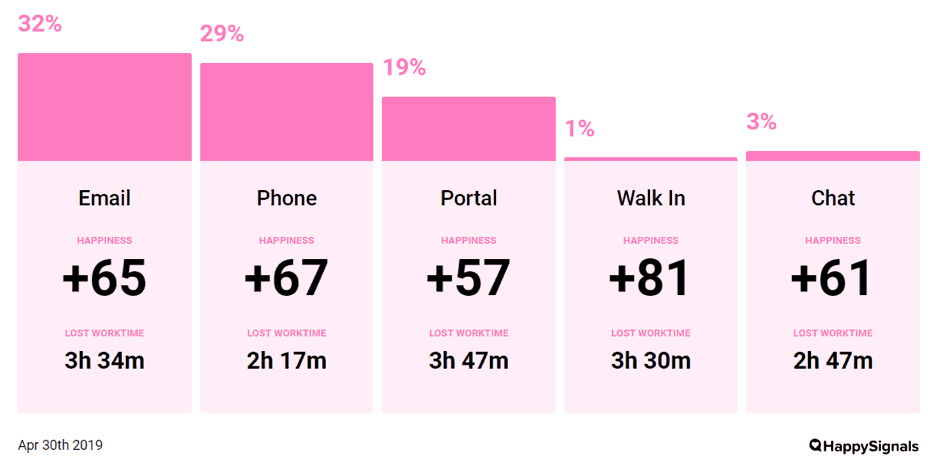 Notice the varying levels of happiness and lost employee productivity by channel.
Learning from modern customer engagement thinking
A different keynote, this time from Esteban Kolsky a customer and CX strategist, offered up more externally-facing advice that can be transferred to internal IT support. Firstly that:
"Customers define what they want their experience to be (not the company)."
And the same is logically true for employees (and it's similar to the perspective that "value" is different for different business stakeholders).
The second was that that:
"We're moving away from results to outcomes. Results are what the company want, outcomes are what customers are looking for."
Which is very much in line with what has been promoted within the ITSM industry for the last few years (and is strongly referenced in ITIL 4) – the difference being that there's a tendency for us to talk of outcomes at a business level rather than at an employee level. So, is your IT service desk focused on better employee outcomes (as well as business outcomes)?
Making ITSM technology about employee experience not just cost reduction
Sanjeev NC, a Freshservice product consultant, spoke about "selfless service," with an emphasis on how we expect employees to do things "the service provider way" rather than how they would personally prefer to do things. Starting with making things easy for employees. Hopefully in line with their consumer-world CX interactions.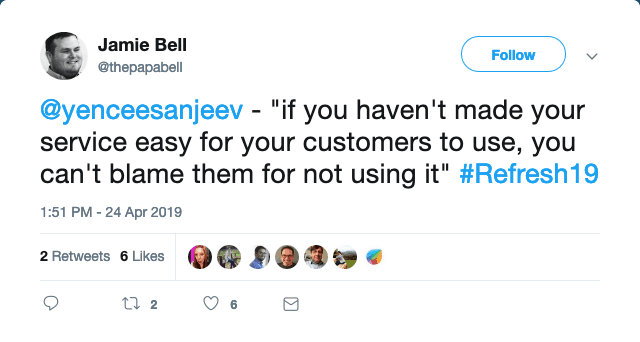 And continuing with the need to remove the friction from services, support, and other employee engagements whenever possible:
"It's not just about giving your users a good experience; it's about making sure they don't have a bad one."
Sanjeev's first point about ease was echoed by Venkat Balasubramanian, Freshservice Senior Director Product Management and Business Unit Head, when talking about artificial intelligence (AI) adoption in ITSM:
"The real power of conversational bots is taking self-service to where employees currently are."
With this also a reminder of the need to build IT services around the way that employees work (or want to work) rather than how the IT service provider selfishly expects people to work. Think of it as CX for employees.
Why employee experience matters
In my session, I spoke to the link between employee experience and employee productivity (and then the monetary value of this) using freely-available HappySignals employee experience data. However, the following slide on why employee experience matters, from Freshworks CMO David Thompson, is a case of a "picture being worth a thousand words" (although I still need to seek out the source of the CX-based data points).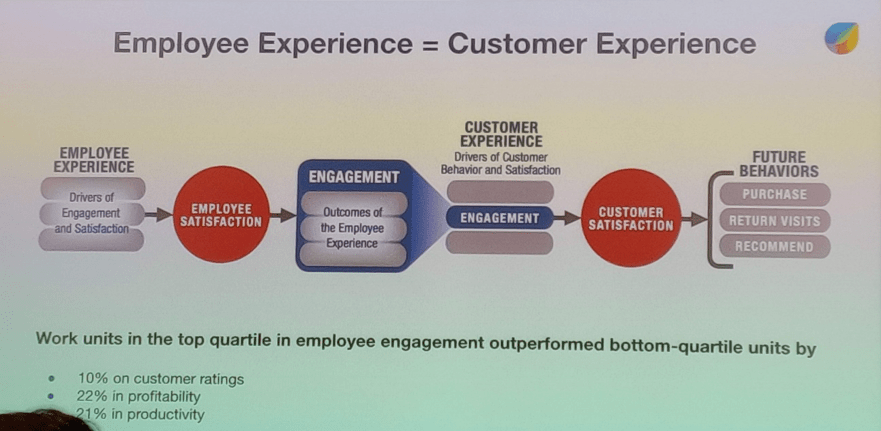 And using it, David confidently stated that:
"Having well-supported employees is good for business."
I'll finish with something from a recent Forrester blog that for me defines what employee experience is far better than any of the overly-worked definitions currently coming out of management consultancy firms:
"Psychological research shows that the most important factor for employee experience is being able to make progress every day toward the work that they believe is most important"
And if you follow the above link, you'll also see what Forrester believes to be the most important influencers of delivering a good employee experience.
So, that's my nine CX and ITSM nuggets from Refresh19. If you were there and think I should have mentioned something else, then please share the points via the comments section.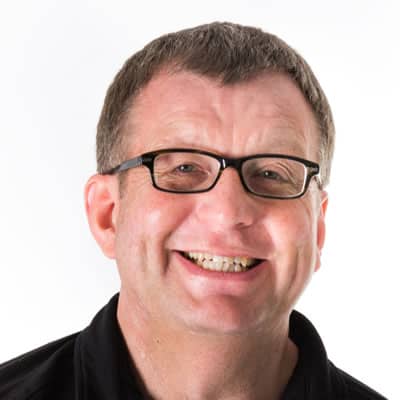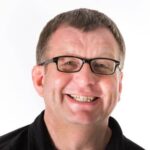 Principal Analyst and Content Director at the ITSM-focused industry analyst firm ITSM.tools. Also an independent IT and IT service management marketing content creator, and a frequent blogger, writer, and presenter on the challenges and opportunities for IT service management professionals.
Previously held positions in IT research and analysis (at IT industry analyst firms Ovum and Forrester and the UK Post Office), IT service management consultancy, enterprise IT service desk and IT service management, IT asset management, innovation and creativity facilitation, project management, finance consultancy, internal audit, and product marketing for a SaaS IT service management technology vendor.