Let's talk about chat for IT support. There's now a wide variety of access and communication channels for IT support. Starting with the early help desk routes of walk-up and telephone, the IT service management (ITSM) industry has seen many more added, such as: email, web forms, self-service and self-help, chat, social networks, and peer-to-peer support (plus, let's not forget the growing role of Google too). And, along the way, Apple brought the walk-up channel back into vogue, with its Genius Bars, and chat has split into two flavors – human-backed chat and chatbots, where machine learning and possibly even natural language processing are used to help the customer.
The Prevalence of Chat for IT Support
The HDI 2016 Technical Support Practices & Salaries report shows a relatively low level of chat for IT support adoption in the US – with chat used by 38% of support centers, albeit up from 32% the year before. To put this into perspective, the telephone channel was reported at 87% and email at 85% in 2016.
Slightly older Service Desk Institute (SDI) UK-focused data – from its 2015 Service Desk Benchmarking Report has the level of chat adoption at just 21%, and even allowing for growth since then it will still be at less than half the level of the telephone and email channels in the UK (at 100% and 93% respectively).
So, chat is still a minority IT support access and communication channel, but it should be doing so much better. Please read on to find out why.
The Success of Chat Over Other IT Support Channels
Global employee experience benchmarking data, from a Finnish company called Happy Signals, offers an interesting insight into the power of chat for IT support. Based on a rolling six-month average, and circa 100000 pieces of end-user feedback, the Happy Signal data shows the following disparity between different IT support contact channels: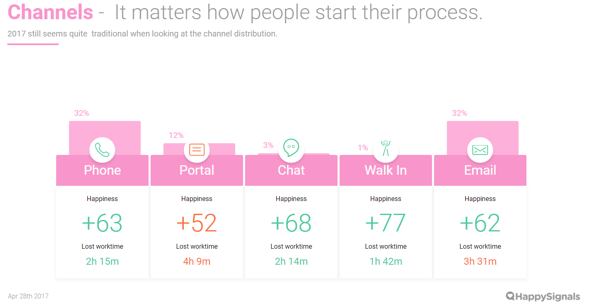 With chat (+68) making people happier than telephone (+63), email (+62), and self-service (Portal) (+52); lagging only behind walk-up and what's probably the benefit of direct human-to-human contact. And then it's second again in terms of the speed of resolution – shown here as the total work time lost to the IT issues. You can read more about the benefits of chat here.
So that's the good news. The bad news is that only 3% of the received feedbacks are for chat-based contacts, little more than the 1% for walk-ups. While this might not directly map to chat's share of IT support tickets, it's probably close given that phone and email each make up nearly a third of the total feedback responses.
Although, one could argue that it's also good news – yes, my glass is always half-full – in that it provides us with an opportunity to further use chat to improve the quality of IT support, the speed of issue resolution, the overall customer experience, plus something not mentioned by Happy Signals – the productivity and efficiency of service desk agents (with chat having been proved a highly-efficient way of support agents dealing with customer contacts).
The Effect of Consumerization on IT Support
For the last decade, IT support teams have been presented with both issues and opportunities because of consumerization. Not just by what we termed the "consumerization of IT" – employees wanting to use their personal devices, apps, and cloud services in the workplace – but also the larger, and I would say "real," impact of consumerization per se. This is where employees are bringing their consumer-world experiences and expectations into the workplace – raising the bar, significantly, for internal IT support teams.
Support teams have reacted, in the main, by viewing self-service capabilities as a key part of meeting employees' consumer-world-fueled demands for better IT services and support. In fact, you could say that the IT support industry has doubled-down on self-service as the silver bullet for improving things. With over 80% of both US and UK corporate IT support teams now offering some form of self-service capability (again, according to HDI and SDI research).
It sounds great until you look at the Portal results in the Happy Signals data. Or refer to SDI data that states that only 12% of its members think that they received the expected benefits from their investment in self-service technology (don't worry, the benefits are there to be had and I'll explain how in a future blog or eBook). With one of the key issues being the assumption that employees will use self-service at work because they do so outside of work. It's a fair assumption to make, but only a good one if the corporate capability is as good as its consumer-world equivalents – which they sadly often aren't (for reasons I'll also write about at a later date).
But is the same true for chat for IT support?
The Opportunity for Chat… and the Opportunity for IT Support
There is the risk that, as with self-service, a poorly-delivered, chat for IT support capability – especially when compared to consumer-world exemplars – just won't be used by employees, and they will just continue to call and email.
The good news though, is that chat is so much easier to get right than self-service – as it has "far fewer moving parts" and requires less organizational change in terms of people's behaviors (although there is a need to ensure that the IT support people involved are up to the challenge of chat). Chat is thus sitting there as a potential quick win for over half of internal IT support teams, maybe more.
So, for IT support teams wanting: to better meet employee expectations of available support channels, to offer a better quality of service and customer experience, to improve service desk agent productivity, and – ultimately – to do a better job of keeping their business operational, chat is a great opportunity to improve.
So why don't you take a look at chat for IT support – consumer-world-like chat – to see how it could help your service desk, employees, and business.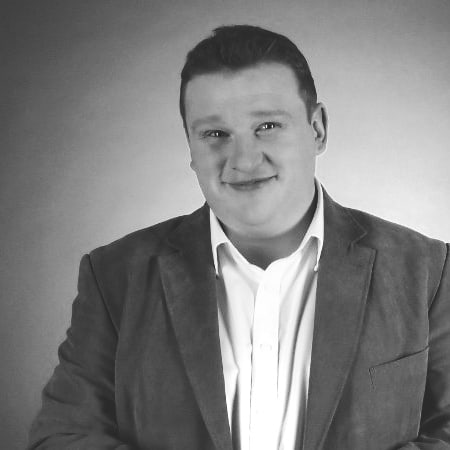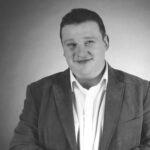 Jonathan Munn is on a mission to spread the word on the importance of great customer service, whether internal or external, week-in week-out at both IT service management and customer service conferences. Prior to this, Jonathan has been a longtime contributor to the IT service management community, working at the Service Desk Institute and cofounding Conference in a Box and Keen – a one-to-many training platform. Throughout his career, Jonathan has been at the coal face of customer service and a builder of better customer experiences.