In the era of digital transformation, service management is no longer just for IT. The whole organization is concerned by digitization, all departments are considered service providers, and new innovative technologies allow IT services to be delivered from any organization. Even non-IT organizations operating in the industrial, civil engineering, transportation, etc. spaces. This is just one reason as to why I find VeriSM – a new approach to service management, not just IT service management (ITSM) – interesting. It regards the entire organization as requiring a spectrum of capabilities that work together to satisfy customer requirements using the best practices of both today (customer experience, DevOps, Agile, Scrum, etc.) and the past (ITIL, COBIT, ISO2000, etc.).
For those of you unfamiliar with VeriSM, I've assembled this article to provide a brief overview of its philosophy and model. Please read on to find out more.
The VeriSM philosophy and model
VeriSM describes itself as a service management approach that's:
Value-driven
Evolving
Responsive
Integrated
Service
Management
Where the entire organization is considered a service provider – not only the IT department – where lines of business should operate based on an integrated selection of available management practices that fit the organization's culture, size, and strategies. These practices could (and should) change dependent on the organization's evolving needs – which make the organization more agile and rapidly responsive to the market of today.
VeriSM is holistic, complementary, and built around governance
VeriSM shouldn't be viewed as a replacement for any existing ITSM frameworks, methodologies, or technologies. Instead it's an approach that helps an organization to use a combination of these existing practices (DevOps, Agile, Scrum, Lean, ITIL, IT4IT, COBIT, Kaizen, Kanban, etc.) to succeed with a digital transformation that might change every aspect on how the organization operates.
In the VeriSM model, owned by the IFDC (The International Foundation for Digital Competences), governance overarches every activity, keeping a strong focus on value, outcomes, and the organization's goals. With the governance capabilities used to communicate the organization's strategic vision and requirements to everyone in the organization.
Service management
The VeriSM service management principles are developed from the strategic vision, goals, and objectives of the organization. As already mentioned, these principles are not limited to the IT department and could be defined as high-level interrelated policies, processes, and procedures that are applicable across the organization.
The management mesh – which is the core of the VeriSM model and shown in the diagram below – is defined in the early stages of VeriSM adoption from the service management principles and it stays flexible to any changes in the organization and/or the market. It includes: resources, environment, emerging technologies, and management practices.
A VeriSM Overview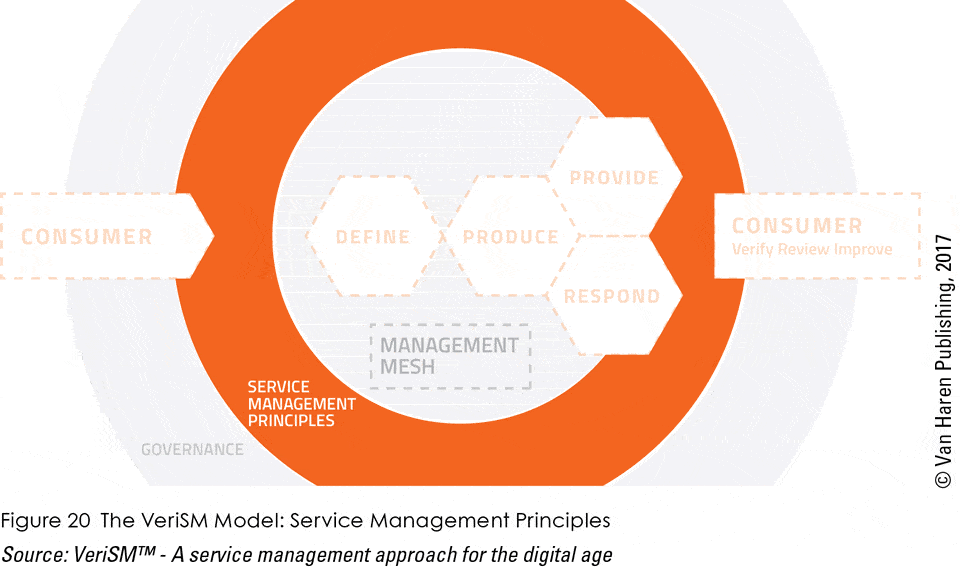 The VeriSM operating model has four stages:
Define. Starting from customer requirements, the organization designs the service or product using a variety of methods to gather the customer technical, non-technical, or performance needs. The result of this stage is a service blueprint.
Produce. This is the stage of building, testing, and implementing the service or the product based on the service blueprint (which takes place under agreed change management practices).
Provide. The activities needed to keep the service or product (and outcomes) fit for purpose by protecting, maintaining, and improving.
Respond. This is the activity of collecting, managing, and addressing customer feedback.
More information on VeriSM
A global launch took place end of 2017 through webinars and presentations at many of the key global ITSM conferences and events (for instance, the various itSMF international conferences, Pink18, SDI18, IT in the Park, etc.).
The VeriSM training and exam/certification paths have been established in collaboration with APMG, BCS, and EXIN. It started with VeriSM Foundation certification, which is the entry level and currently available. Certifications on other levels – VeriSM Professional and VeriSM Leader – will follow in the second half of 2018.
There is currently a single official book available via the Van Haren website, with more focused and detailed good-practice content in the pipeline for later this year.
Other useful information sources include:
https://www.verism.global
https://interpromusa.com/what-is-verism/
https://www.linkedin.com/pulse/blog-verism-service-management-digital-age-ivo-van-haren/
https://www.linkedin.com/company/18293851
https://www.linkedin.com/groups/13559143
You can also follow VeriSM news discussions on Twitter using @VeriSM_Global and #VeriSM
What you should keep in mind
VeriSM is not a replacement for any existing ITSM frameworks, methodologies, or technologies.
VeriSM describes a service management approach from the organizational level, looking at the end-to-end view rather than focusing on a single department.
VeriSM helps organizations to select the appropriate practices, from a set of management capabilities and technologies, to deliver the required service or product to the customer.
VeriSM™ is a registered trademark of IFDC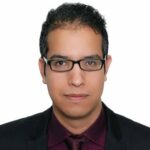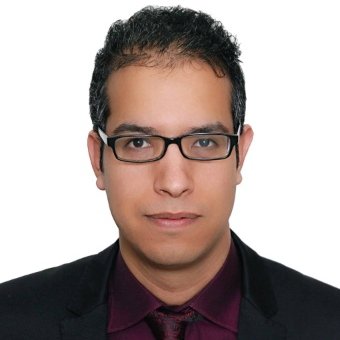 Saad Mousliki is an experienced IT manager with 7+ years of qualified success in IT/IS and ITIL. He is Microsoft certified and has in-depth knowledge of IT service management, web/mobile/cloud apps, and telecom. He's currently working on an ITIL adoption and ISO20000 certification project in a large company, and is also a blogger who frequently shares knowledge related to ITIL, cloud/mobile, and JavaScript.