Artificial intelligence (AI) has been a fascinating topic for decades. Stories have been written, movies have been made, and its mythos has grown to the point that it, as a concept, has caused it to permeate the very constructs of our social being.
We're now in the midst of a very important Artificial Intelligence milestone – 2018 marks the 50th anniversary of two important events in AI. Firstly, the release of the film 2001: A Space Odyssey and the publication of Do Androids Dream of Electric Sheep, the book that inspired the Blade Runner films. So, it sounds like the perfect time to see where we're at when it comes to AI. In particular, in the context of IT service management (ITSM).
We're already experiencing the power of Artificial Intelligence
AI has developed a lot in recent years. Many of us already use it to take the fastest route to work or to figure out which song we've just heard at the coffee shop.
But what does AI mean for the way we do our work? For those in ITSM and the wider service management space, AI is beginning to play a large role that will only get all the more dominant.
What can Artificial Intelligence do for service management?
It might still be a while before Artificial Intelligence is omnipresent in IT, facilities, and HR, but in service departments AI has more potential than you might imagine.
You might, for example, be able to imagine a chatbot helping your customers by suggesting knowledge items to them. But there may be even more sophisticated technologies down the line, especially when you use AI to manage large data sets.
Why? Because one of the things that AI can do both better and faster than human beings is analyzing large quantities of data and identifying patterns. This is where we expect we can gain the most out of AI for service management. Here's how:
Artificial Intelligence can do repetitive tasks consistently and may also be able to recognize patterns a team of human employees might not be able to see in a large amount of tickets/calls.
AI may also be able to help detect more-complex correlations that help with prioritization. Pointing to data might allow organizations to focus on different challenges if they can understand how doing so will lead to better outcomes. For example, if employees work fewer hours when there are calls about climate control within a building or if slower library computers lead to lower grades for students, such challenges could immediately be met.
Artificial Intelligence can handle pattern recognition to analyze which types of problems a customer reports most often, which knowledge items your customers use, and which items lead to success or failure to solve the problem.
Where we are with Artificial Intelligence
These are very real, tangible expected outcomes – and in the near future – from AI capabilities. Are we totally there yet? No, but the technology is quickly putting us on pace to be. There's simply no ignoring the fact that AI is here for future use and is going to have a huge impact on our lives – hopefully not to the degree seen in Blade Runner – and it likely will solve many of our future challenges.
For current practical purposes, AI can automatically categorize calls based on the request field. With machine learning, the technology can learn how to determine categories for each call received. In the near term, human employees won't be required to spend their time on the tedious task of putting calls into categories. Instead, they'll be able to start working on pre-categorized calls right away.
How can you get the most out of the information you already have?
This is the question to keep in mind when exploring the possibilities of Artificial Intelligence. Much more is to come, culturally and technologically, in regard to AI. And, in another 50 years, we'll look back on this time to see just how primitive all of us seem right now, when time travel, teleportation, and traveling through black hole gateways seemed all the more impossible.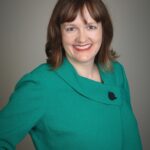 Nancy Louisnord is the Global Chief Marketing Officer of Manta, responsible for the company's global marketing programs and product marketing strategy. With more than 15 years of international leadership experience in the B2B IT SaaS industry, she is a sought-after presenter at conferences and one of HDI's TOP 25 Thought Leaders and HDI's featured contributors. Manta offers a comprehensive data lineage platform that gives companies complete visibility and control of their data pipeline. Manta has helped companies reduce incidents through proactive risk analysis, accelerate digital transformation, and enhance governance by building trust in data.