I recently attended and presented at the IT in the Park conference in Edinburgh, an event which Vawns Murphy has succinctly summarized with key learnings in her recent blog. It was a nice example of small-bite ITSM training.
However, there were a few other things at IT in the Park that I thought worth writing about. There was a general recognition and buzz that this is "the most exciting time ever to be working in IT." If we were to reintroduce "buzzword bingo" then terms like "digital transformation", "customer experience", and "business value" would be high on the list. It's an inescapable fact that IT is becoming mission-critical and IT service management (ITSM) is becoming a strategic capability. IT can deliver enormous business benefits, enable businesses to compete, provide a differentiation …blah … blah … you get the picture.
But on the darker side, IT can pose a significant threat and risk to business continuity when it fails. Just to bring this point home, the very day after the conference I saw this in a tweet – a Forrester report revealed that:
"57% of organizations surveyed had issues with business-critical application performance or availability every week, and half of these struggling organizations had issues every day."
So let's be clear about something – all this "digital transformation" also requires an "IT transformation".
Transformation of attitude (before ITSM training)
You probably hear "IT must become a strategic business partner" a lot, but the majority of IT organizations are a long way from achieving this. Everyone who visited my stand at IT in the Park to discuss this agreed. On the one side this requires a significant change in attitude (from business people as well IT people – but that's the subject for another blog).
And "we are no longer IT people we are business people!" To which a common response is "Yeah! Yeah! Yawn! Another person spouting buzzwords. I've got real server issues I need to fix and more apps being released every day". Or a "yeah, yeah it'll all blow over… the latest consultancy trends" attitude.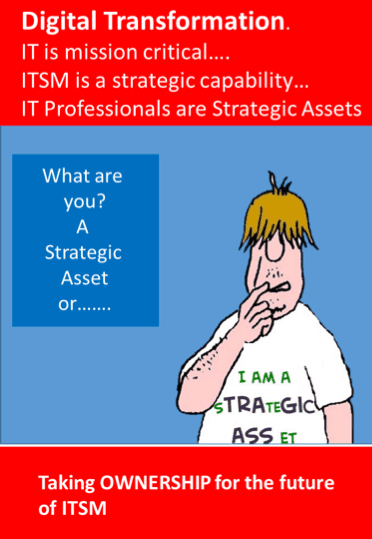 Either we accept that we're strategic and start behaving differently or we'll become a tragic victim passed aside as being no longer relevant (yes I took my doom and gloom pills this morning).
Transformation of behavior
It also requires new ways of behaving that require new skills and competencies – we see organizations leaping onto the bandwagon of Scrum, Agile, DevOps, IT4IT, BRM, TOGAF, and BISL training to name but a few, while trampling over the fallen body of ITIL. But ITIL will get up, dust itself off, and claim a role in this multi-framework ecosystem.
We see the accredited ITSM training organizations (ATOs) ready, willing, and able to provide the appropriate ITSM training courses and certifications but we need to shake off the focus on the FRAMEWORKS and certification to achieve the desirable behaviors we need.
Transformation in the way we develop talent and provide ITSM training
In my presentation, I explained that 70% of companies don't get the hoped for VALUE from their ITSM training investments. I presented the 8-field model, which answers two key questions "how can we evaluate a learning intervention?" and "what are we trying to achieve with a learning intervention?" I then asked, "How many of you evaluate your ITSM training at Kirkpatrick's level 3 (behavior change) and level 4 (impact) of your training?" ZERO hands went up.
"How many of you discuss and agree the top four elements with employees before sending them on ITSM training?" Again, ZERO hands went up.
Then "How many of you agreed the following with your manager before coming to this event":
What problem are we trying to solve?
What do I want to learn?
How will I present and use the knowledge gained when I return?
What impact do I hope to achieve as a result of attending this event?'
You've guessed it … ZERO hands went up.
If we're truly to be strategic assets then we must also transform the way we deliver ITSM training to people
We must shift the focus away from "getting the certificates" to translating the theory into practice and knowledge, and thus into business impact. In my mind, the 8-field model is something that all managers should be using before they send staff onto ITSM training, and all ATOs should be using it to increase the effectiveness of their offerings.
The good news is that the 8-field model made it into the ITIL practitioner toolkit. The bad news is the text explaining HOW to use it didn't. Here's a link to a blog from my colleagues Jan Schilt explaining how to use the 8-field model (it mentions Windows 7 so you can see how long we've been using the model for).
Is this more consultant theory or was any of this relevant and useful to the IT in the Park audience?
Was I just Mr. Doom and Gloom or was this content of any value to delegates? Fortunately, Claire Agutter, who co-presented the session with me, provided a positive upbeat look to the future and was able to calm the shell-shocked audience. What did the delegates think?
"… caused me to reconsider support of staff taking ITSM training courses before-during-after."
"… my personal highlight, very challenging and strong – lots of great ideas and very disruptive way to think about all the frameworks."
"… can you come and present this to my management team."
So the next time you or your company invests in ITSM training, or any training for that matter, take a look at the 8-field model to help ensure that whoever gets trained gets the most out of it from a personal, team, and business perspective.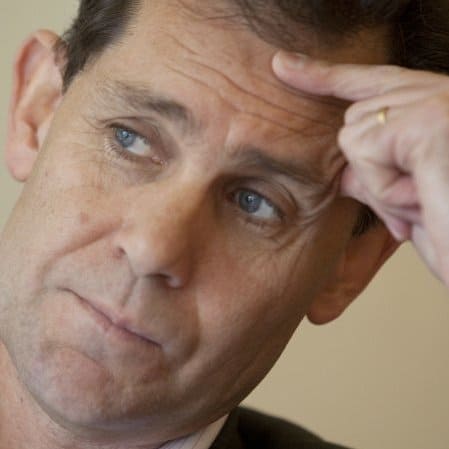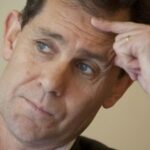 Paul Wilkinson has been involved in the IT industry for more than 25 years and has a broad background in IT operations, IT management, and product innovation and development. He was project team lead in the original BITE (Business & IT Excellence) process modeling of ITIL, an ITIL V2 author, and member of the ITIL V3 advisory group.
He is co-owner of GamingWorks and co-developer of a range of business simulations focusing on IT service management, project management, business process management, business and IT alignment, alliance management and co-author and developer of the ABC of ICT products and publications.