Let's talk serious play. The team of executive directors strode purposefully into the room. Their shoulders deflating somewhat as they realized that they'd promised a two-hour slot to the corporate IT organization for a mini workshop. You could see their eyes glaze over as they became a bored board, waiting to listen to IT complaining about its victim role!
A workshop to bring IT and business colleagues closer together
Jan Massier from BePresent had organized this workshop with the unnamed company's CIO, its IT service management (ITSM) program director, and myself. To start our serious play, the company directors and the IT representatives were divided into two teams of five.
Laid out on the table in front of them were a selection of ABC (attitude, behavior, culture) cards. A pack of 52 playing cards and four jokers containing "worst practice cartoons" such as those shown below.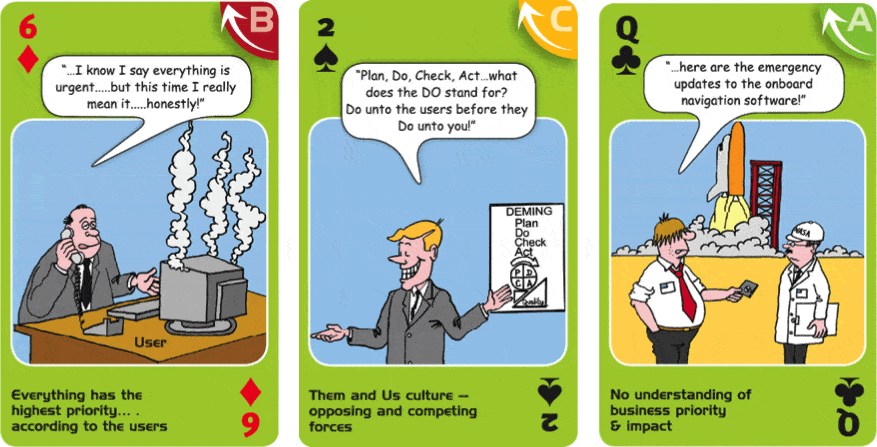 "Oh good a game… my team is obviously the winning team!" quipped one of the attendees.
I noted how dividing the room into two separate groups had automatically created a "them and us" feeling. Just like with the "business and IT alignment" issues we commonly hear about – and the theme of the workshop.
The importance of shared understanding
I explained some of the top industry trends related to need for better "business and IT alignment," which they all recognized:
An increasingly customer-driven demand for digital services
A growing demand for more, faster IT solutions from all business units, and
A "technical debt" in terms of IT solutions AND ITSM capabilities.
If you just nodded to this, then… Congratulations you're not alone, probably 95% of organizations are struggling with the same issues!
The workshop was to gain input, and commitment, from the business for an ITSM improvement program. Phase 1 was to stabilize operations and put incident, problem, and change management capabilities in place. Phase 2 was to tackle the more strategic and tactical ITSM capabilities such as portfolio, demand, and financial management, which required business engagement, involvement, and commitment.
Working through the issues with serious play
The two teams were each given a set of ABC cards. Each director was asked to select three cards, then each team was asked to select their top card, based upon the negative impact on business value, outcomes, costs, or risks. The CIO, being the only person representing the IT side of the equation, was anticipating a deluge of complaints and criticism.
The high-scoring cards were:
"IT is too internally focused"
"Too little understanding of business impact and priority" (at a strategic, tactical, AND operational level)
"Not my responsibility"
"The solution that IT sees isn't the solution the business sees"
"Them and us culture."
Which isn't surprising as these cards have continually scored highly for the last 15 years!
Isolating the biggest issue
To select their top card the teams chose different strategies, one team selected the card that had been individually chosen the most times, which was the "them and us culture." The second team collectively chose a top card "IT has too little understanding of business impact and priority" and then ordered their selected cards into a chain of "cause and effect." However, ordering their cards resulted in them finally selecting a different top card "Everything has the highest priority according to the business!"
The impact of this card?
Wasted money
Rework (wasted resources)
Strategic projects delayed or pushed back (with business value and outcomes impacted)
Resources continually being escalated and rescheduled – causing mistakes and delays
Business and IT AND end customer frustration – resulting in damaged business reputation.
There was silence as the teams presented the impact to each other. It suddenly all became very visible, and very uncomfortable. Particularly as it started to dawn on the directors that this wasn't all IT's fault!
Taking shared responsibility through serious play
The directors concluded that IT – at a strategic, tactical AND operational level – has too little understanding of the business and of business impact and priority (confirming that the findings of this article from 2013 "The IT talent problem" are still relevant). However, this problem is compounded by conflicting priorities set by the business, each business division demanding that its initiatives are given priority.
This was NOT a card that IT and the ITSM improvement program could solve alone. This could only be solved with active business engagement.
The workshop attendees were then asked "What role(s) within the business need to help IT address this recognized ABC issue that's a barrier to their business strategy?"
They came up with the following:
The board must take ownership for their portfolio. Product managers must prioritize based upon a clear business case. When conflicts arise these would be escalated to the board who would then act in their capacity of strategic steering committee to prioritize based on business value versus costs and risks.
The board recognized the need for service portfolio and demand management and committed resources to ensuring these processes were made fit-for-purpose.
"We both need to understand IT decision making in the context of what it means to our business and to the end customers"
The workshop helped raise awareness for the need to address "attitude, behavior, and culture" issues within both IT and the business as a whole, and had created a willingness and commitment to improve both the relationship and the "business and IT alignment" capabilities. But…
"It's no longer a question of alignment, but of convergence, operating as one to deliver business value'.
With the teams agreed on continuing with these types of sessions, working together to drive digital transformation.
Serious play really works. If it didn't, I and many other people like me wouldn't be so busy helping companies to: identify issues and opportunities, imagine and consider improvement options, and agree on ways to make the corporate IT organization of better value to the parent company. I'd love to hear your stories about how serious play has helped your team, it's one of the reasons there's a comment section below. And if you've never tried serious play, the next time you attend an industry conference you'll probably be able to participate in one there.
Want more? Here are informative ITIL 4 service value system and ITIL 4 service value chain articles.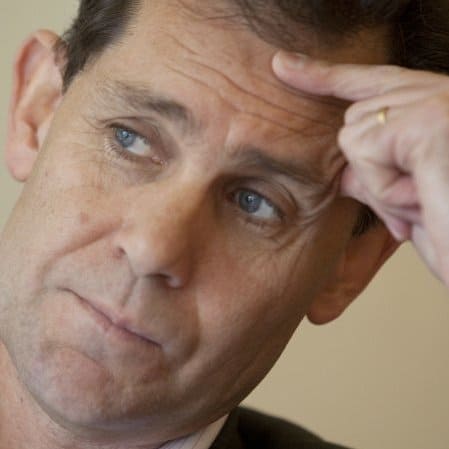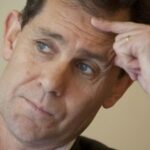 Paul Wilkinson has been involved in the IT industry for more than 25 years and has a broad background in IT operations, IT management, and product innovation and development. He was project team lead in the original BITE (Business & IT Excellence) process modeling of ITIL, an ITIL V2 author, and member of the ITIL V3 advisory group.
He is co-owner of GamingWorks and co-developer of a range of business simulations focusing on IT service management, project management, business process management, business and IT alignment, alliance management and co-author and developer of the ABC of ICT products and publications.