Let's talk about ITIL 4 and VeriSM. Even though ITIL has been around for many years and is considered the de facto best practice framework for IT service management (ITSM), VeriSM emerged in 2018 to find its place in the market. And this came before the launch of ITIL 4 from AXELOS in February 2019.
VeriSM's publication introduced some modern approaches in service management such as Agile and shift-left among others. ITIL 4, once released, also incorporated these modern concepts that have conquered the IT world during the last few years.
VeriSM claims not to be a body of service management best practice but is instead an approach where the key facet of the model (it's not a process flow, nor a set of procedures) is the Management Mesh where all the popular management practices (ITIL, COBIT, ISO/IEC 20000, CMMI-SVC, DevOps, Agile, Lean, SIAM, etc.) and emerging technologies and trends (artificial intelligence (AI), containerization, the Internet of Things (IoT), big data, cloud, shift-left, continuous delivery, CX/UX, etc.) are included.
Maybe there's some truth in this VeriSM statement. And in this short VeriSM article, I explore how the two service management approaches are either different or similar by going over their core concepts side-by-side. Let's start with some basic information.
This article explores how the two service management approaches of ITIL 4 and VeriSM are either different or similar by going over their core concepts side-by-side. #VeriSM #ITIL4
Click To Tweet
ITIL 4 Explained
Before talking about VeriSM, let's look at ITIL. ITIL 4 provides a flexible foundation for organizations that need to integrate various frameworks and approaches into their service management operating models. Think of it as ITIL 4 aiming to help businesses navigate the new technological era of digital services.
The ITIL 4 framework introduces some new key concepts:
Service value system (SVS): Organizations can facilitate value co-creation via the SVS and provide end-to-end value for their service relationships
Service value chain (SVC): A set of interconnected activities that provide an operating model for the creation, delivery, and continual improvement of services
Guiding principles: These are at the core of ITIL 4 and help service management professionals to adopt and adapt ITIL for their own specific needs and circumstances
ITIL practices: These are a fundamental part of the ITIL 4 framework and provide a holistic vision for ways of working
"Four dimensions": These are perspectives that are relevant to the whole SVS, and are critical to the effective and efficient facilitation of value creation for customers and other stakeholders.
In addition, ITIL 4 is now designed to integrate with other practices and new ways of working, including Lean, Agile, and DevOps (plus VeriSM).
VeriSM Explained
VeriSM is "a service management approach for the digital age" that helps service providers to create a flexible operating model to meet desired business outcomes. VeriSM supports organizations in succeeding in the world of digital services using all organizational capabilities, from IT to Marketing and Finance to Customer Service, in order to deliver value.
VeriSM's content includes:
Service culture
Organizational context
People/structure
Service management challenges
Processes, tools, and measurement
The VeriSM model
Operating in a world of digital transformation
Selecting and integrating management practices
Progressive management practices including Lean, DevOps, and Agile
The impact of technology on service management.
ITIL 4 and VeriSM: governance, operational models, principles, and overall concepts. What's different and what's the same? #ITIL4 #VeriSM
Click To Tweet
The ITIL 4 and VeriSM Supporting Concepts Compared
ITIL 4 defines four dimensions that should be considered to ensure a holistic approach to service management:
Organizations and people
Information and technology
Partners and suppliers
Value streams and processes.
These dimensions are applicable to the service value system in general and to specific services.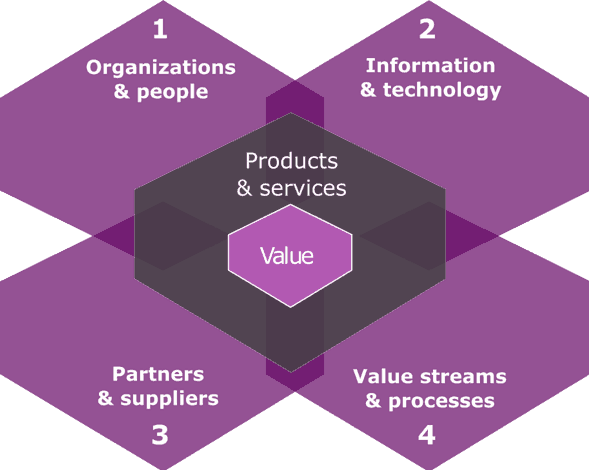 In VeriSM, the VeriSM Management Mesh includes:
Resources
Environment
Emerging technologies
Management practices.
For each product or service, these areas are considered and the VeriSM Mesh is flexed where necessary.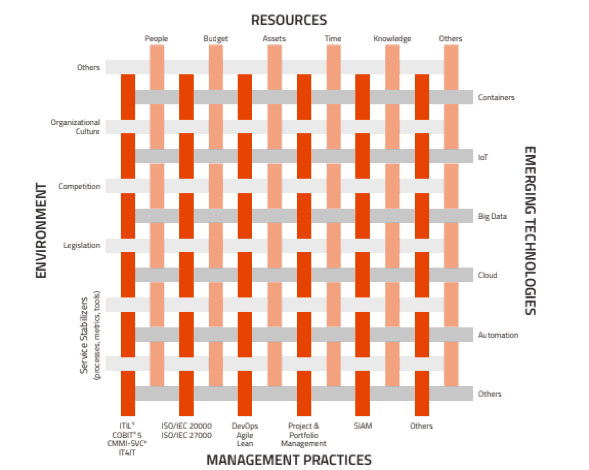 You'll hopefully notice that there's a high degree of similarity between the four "pillars" of ITIL 4 and VeriSM.
Did you know there's a high degree of similarity between the four "pillars" of ITIL 4 and VeriSM? This article explores. #ITIL4 #VeriSM
Click To Tweet
The Core ITIL 4 and VeriSM Concepts Compared
In ITIL 4, the SVS represents "how all the components and activities of an organization work together to facilitate value creation." The SVS (as shown below) includes the following elements:
Guiding principles
Governance
SVC
Continual improvement
Practices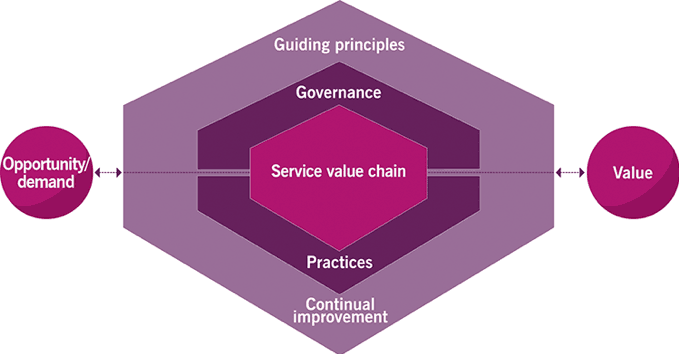 The VeriSM model is a service management operating model for an organization, which includes:
Governance
Service management principles
The VeriSM Management Mesh
And the VeriSM phases Define, Produce, Provide, and Respond.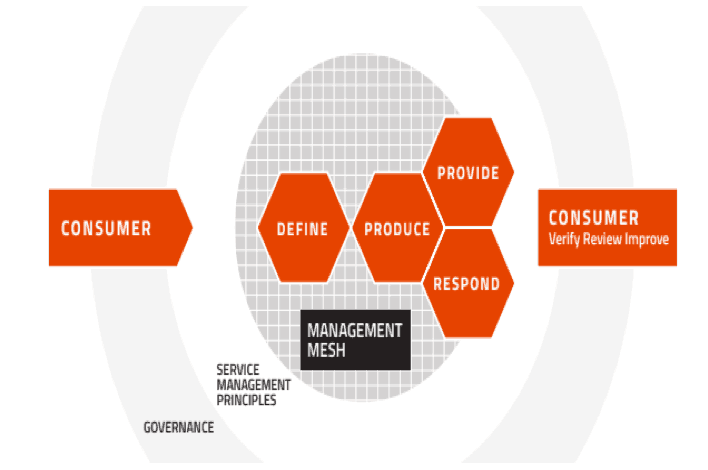 So, we see that ITIL 4 goes a bit deeper in technical terms due to its legacy, but VeriSM has a broader sense of notions at a horizontal level, leaving the deep vertical technical processes to be decided by the organization
Governance Compared
Let's now see how the two frameworks define governance (a very much-needed notion, but let's not forget about COBIT too).
The ITIL 4 definition is: "Governance is the means by which an organization is directed and controlled." VeriSM has a very similar definition, that "Governance is the underpinning system of directing and controlling the activities of an organization."
And we have another strong similarity between ITIL and VeriSM.
The Similarities and Differences between ITIL 4 and VeriSM
Click To Tweet
Principles Compared
In ITIL, the guiding principles are general recommendations on how an organization can achieve value. In VeriSM, the Service Management Principles are more specific and narrower. Therefore, the two frameworks define principles differently.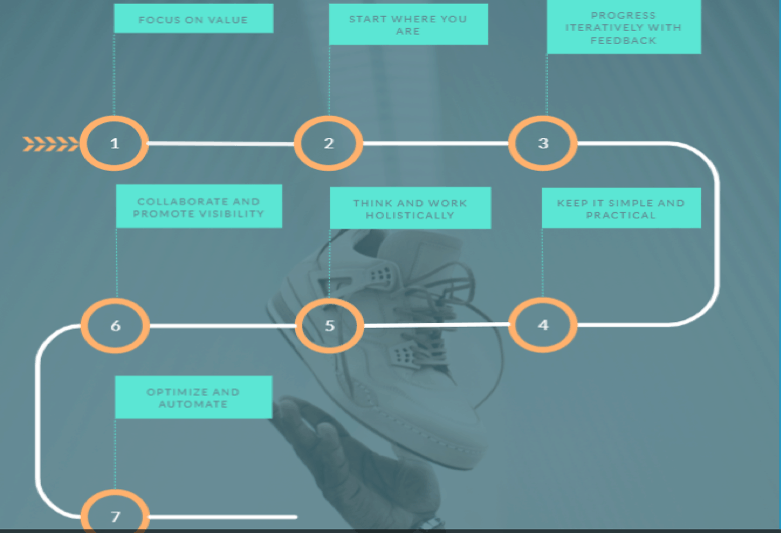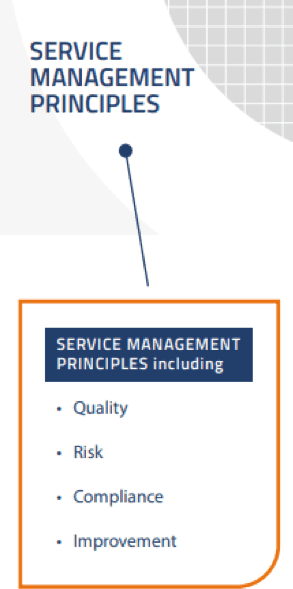 Practices Compared
Practices in ITIL 4 and VeriSM has a different meaning. In ITIL 4 a practice is a set of organizational resources designed for performing work or accomplishing an objective. While in previous versions of ITIL the focus was on processes, ITIL 4 shifts to a focus on practices. With 34 practices versus the 26 processes of ITIL v3.
In VeriSM, management practices are an aspect of the Management Mesh. But in VeriSM, the definitions are way wider. For example, the whole of ITIL or COBIT is considered a management practice. Using VeriSM, organizations can select and apply a range of management practices to get the outcomes they need for a product or service, like selecting tools from a toolbox.
Operational Models Compared
The operational models of the two approaches have concepts in common but also a different approach. ITIL 4 has six activities and VeriSM four. In VeriSM the four activities can be characterized as groups for a more detailed approach. ITIL 4 also combines its six activities as chains with the 34 practices that were mentioned above.
The ITIL 4 service value chain is an operating model for the creation, delivery, and ongoing improvement of services. It outlines the key activities required to create value in response to demand, through the creation and delivery of products and services. The six activities shown in the service value chain diagram below represent the steps an organization takes in the creation of value.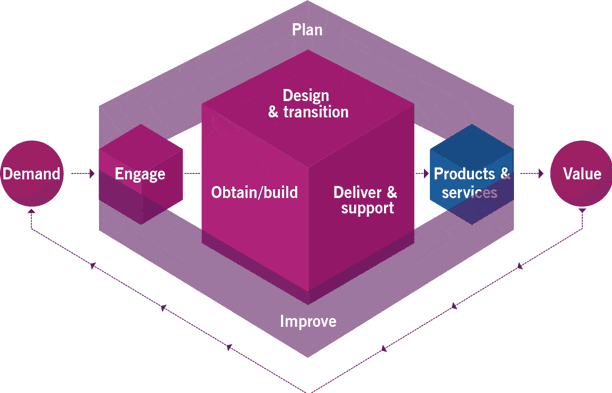 Plan – to ensure there's a shared understanding of various aspects of service provision and support.
Improve – to ensure the continual improvement of products, services, and practices.
Engage – to ensure stakeholder needs are understood, along with continual engagement and good relationships.
Design & transition – to ensure products and services meet expectations across quality, cost, and time to market.
Obtain/build – to ensure service components are available as needed.
Deliver & support – to ensure that service delivery and support meet agreed on specifications and expectations.
Did you know that the operational models of ITIL 4 and VeriSM have concepts in common but also a different approach? #ITIL4 #VeriSM
Click To Tweet
The VeriSM model includes the following four activities:
Define – the activities and supporting outcomes that relate to the design of a product or service.
Produce – this describes the performing of build, test, and implementation activities, under the management of change control.
Provide – this describes that a product or service is available for consumption by the consumer and the service provider performs on-going maintenance and improvement activities.
Respond – this describes how the service provider reacts to service issues, inquiries, and requests from the consumer.
To conclude, there are definitely both similarities and differences between ITIL 4 and VeriSM. The important thing to note is that both approaches are centered on people, business, and value of the services in addition to the classic IT notions of processes, activities, technologies, and tools.
What else would you point out as similarities and differences between ITIL 4 and VeriSM? Please let me know in the comments.
If you liked this ITIL 4 and VeriSM article, the following ITIL articles might be helpful too.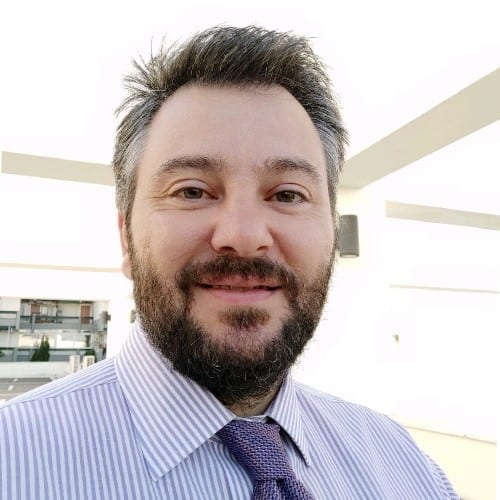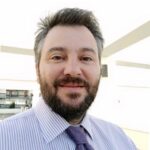 George currently works as Presales Manager for Nimaworks (Atlassian Gold Solution Partner). He has been designing ITSM and IT Governance Solutions for the last 15 years, among other areas. He is always keen on continuous learning about IT best practices and standards like ITIL4, VeriSM, SIAM, COBIT2019, ISO20000, Lean and Agile.