Setting the scene: '…The rolling green hills of England, the buttercups painted a golden yellow by the early morning sun, cows lying in glistening dew-cloaked fields, the gentle buzz of a bee in the scent-filled breeze… …a stark contrast to the high-tech hum of the sterile air-conditioned mission control center for the MarsLander flight. …The countryside was the last thing on the mind of a team of senior business, IT, and IT service management (ITSM) managers. Deep in rural England, they would trade-in the tranquility of the comfortable green Earth that they know for the harsh, unforgiving, unknown environment of Mars. Challenging themselves to collaborate and apply ITIL4 principles in the MarsLander business simulation.'
Why? The organization is embarking upon a major business change program. The comfort of their own, known business model, like that of so many other organizations, has been disrupted by technology. Digital disruption, digital transformation, digital optimization, call it what you will, represents an unknown, challenging, and unforgiving new environment – in which IT is a critical enabler… or barrier to the business change initiative.
Organizations must learn to deal with the unforgiving, harsh reality of business transformation and relentless change. How on Earth, will ITIL4 make a difference?
Organizations must learn to deal with the unforgiving, harsh reality of business transformation and relentless change, says @GamingPaul. Here he explains how ITIL4 will help make a difference. #ITIL4
Click To Tweet
ITIL4's relevance
Especially now when there's a lot of questioning about the relevance of ITIL in today's fast-paced world of digital disruption. New ways of working like Agile and DevOps bring into question the relevance of ITIL. ITIL is seen as slowing things down. A suggested investment in ITIL therefore will be questioned:
'Why should we invest?'
'How will ITIL help us in our business transformation?'
These are questions we hoped to answer in this MarsLander workshop.
End-to-end ITSM
The MarsLander simulation is an experiential learning workshop in which Business, Development, Operations, Suppliers – in fact, the end-to-end stakeholders involved in ITSM – can be brought together to explore the benefits of ITIL4 and how it aligns with other practices such as DevOps, Agile, COBIT, and business relationship management (BRM).
At the same time, the simulation can help develop collaboration and continual improvement skills AND can be used to capture concrete, pragmatic actions to take away… all in one day!
MarsLander – failure is not an option with ITIL4!
A 'C' level business manager played the business role in the simulation. Senior IT managers, process owners, and ITSM professionals played the other mission control roles. Would the team be able to demonstrate the value of ITIL4 to the senior business leader? Would the senior business leader apply effective governance to ITSM? Failing to do so would put the mission at risk!
The rest of this article explains what happened, primarily from the business-owner perspective in the simulation.
The mythical 'We'
The first exercise we did at the start of the simulation was the 'collaboration' exercise. 'What behaviors will we see that demonstrate effective collaboration?' We did this to demonstrate the importance of the ITIL4 guiding principles, as 'collaborate and promote visibility' is a core guiding principle for developing an effective end-to-end capability.
The team agreed on a flip-over of behaviors. However, as the business manager realized, nobody had named 'understanding shared goals' as a desired behavior!
Then as the mission launched and new business requests, feature updates, technical changes, issues, and events entered the simulation they promptly ignored the list of behaviors and started operating in SILOS. 'We were so focused on the practices and processes we overlooked the behaviors!'
'Who owns these behaviors?' I asked at the end of the simulation round.
'We do' was the answer.
'Who is this mythical 'we'?'
'…Where was the 'we' when people were ignoring the behaviors? Where was the 'we' in correcting behaviors? Where was the 'we' when IT was ignoring the business? Where was the 'we' when the business was throwing things over the wall and insisting everything has the highest priority?'
Silence. As the business and IT delegates just looked at each other.
<BEEP> the systems monitor signaled another mission event.
'What is the role of managers in coaching these behaviors? What is the role of each individual in giving feedback on these behaviors?'
Silence.
'Changing behaviors requires ownership, practice, effort, recognition, feedback, and often coaching – a process doesn't do this.'
Changing behaviors requires ownership, practice, effort, recognition, feedback, and often coaching – a process doesn't do this, says @GamingPaul #ITSM #leadership
Click To Tweet
Progress iteratively with feedback
At the end of the first simulation game round the team reflected on what had happened. What went well, and what needs improving.
We used the ITIL4 SVS (Service Value System) to facilitate the first reflection session.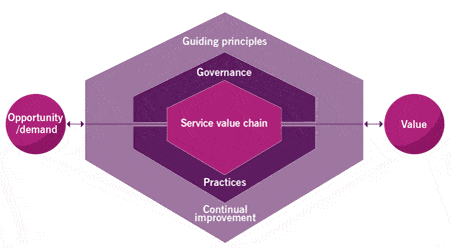 Below are the issues that needed improving.
'These were issues that delegates also recognized in REALITY!'
The team then agreed on three priority improvements before playing the next round. In effect, the team was developing skills for 'progress iteratively with feedback' a core capability for the outer layer in the SVS model – continual improvement.
Improvement needs:
Demands/Opportunities to value: The business team was throwing requirements over the wall for 'new' innovations, without any clear insight into the total backlog of opportunities and demands and insisting these had the highest priority. The BAU (business as usual) manager in the simulation didn't want her work to be ignored so started insisting all operational issues had the highest priority.

'As a business, we didn't have enough visibility to make informed decisions about what value was required!'
Guiding Principles – collaboration: The business didn't share goals, didn't 'ensure the right people with the right knowledge and decision-making authority are engaged in meetings to ensure the smooth flow of work through the value chain,' yet these were the agreed behaviors in the collaboration exercise.

'New behaviors are more than simply declaring the new corporate values on posters on the wall.'
Governance: Governance was based on 'who shouts loudest' (a lack of trust in IT to make the right decision) it was not based on a balance of Value, Outcomes, Costs, Risks (VOCR).

'Our priorities were not based on balancing benefits realization vs. risk optimization… let alone prioritization of resources for improvement work!'
Value: IT didn't know or use VOCR (the definition of a service) to prioritize, IT didn't know the critical business goals or timelines – even though this was named as a core behavior for 'collaboration and promote visibility.' The business didn't confirm that goals were known and that priority mechanisms aligned to the goals.

'We in IT dived into the technology and were too internally focused, we didn't manage the trust of the business and show that we understood their goals!'
Co-creation: There was no real co-creation, it rapidly became a 'them and us' situation with both parties trying to get an impossible amount of value through the value chain when there are too many demands/opportunities to fulfill.

'This is a fact of life! This will never change, this is exactly what we face in our daily work, we can only do this if we effectively communicate and collaborate!'
'We in the business know our own goals and priorities but these are not always clear to IT, nor how to deal with conflicts.'
Collaborate and promote visibility: Neither IT nor the business had visibility into the complete backlog of demands/opportunities. These are NOT just business demands and opportunities. There are also events, incidents, problems, legacy systems, AND service improvement initiatives such as 'optimizing and automating' capabilities and removing waste.

'We have a lot of hidden work, which limits our ability to effectively prioritize our portfolio on value optimization and allocate scarce resources appropriately.'
Guiding principles – 'focus on value': It soon became clear that business behavior and lack of governance was also part of the problem. 'ITIL4 is NOT an IT thing!' was a key business discovery. Prioritization against Value Creation (e.g. new business features and demands) + Value Leakage (e.g. incidents, problems) and Value Improvements (e.g. automated detection and recovery, service improvements).

'The business MUST help ensure balanced prioritization (In terms of COBIT (a recognized IT governance framework within the organization) benefits realization, risk optimization, resource optimization).'
Continual improvement: It was also clear to the business 'start where you are' is a core guiding principle.

'If we look at where we are, we recognize many of these barriers prevent 'more and faster demands and opportunities through the value streams.' We cannot allocate resources to a major transformation or implementation of ITSM practices so we must 'progress iteratively with feedback,' we cannot improve everything so we must focus on improvements that deliver the most value (focus on value). To ensure we always make the right balance in prioritization of scarce resources we must 'collaborate and promote visibility.'
The business manager had to leave early to attend a board meeting. 'We'll schedule a meeting for Monday to take these learning points forward into our business change program. There are a lot of valuable takeaways from this.'
From ITIL4 theory into actionable takeaways
At the end of the day, the team had realized the simulation goals. The mission was a success!

How had they achieved this? By reflecting and improving each round, evaluating the measured results, and re-calibrating priority mechanisms. Too much focus on 'new innovation' had caused customer satisfaction to drop. Image and reputational damage would prevent new business and innovation. Priority shifted to 'customer satisfaction.'
There was a continual alignment to changing business goals. Each round was characterized by 'co-creation' and a 'focus on value.'
At the end of the day, we asked 'What did you apply today in this simulation that you NEED to take away and apply in your organization?'
These are the takeaways of translating theory into practice. The next step in the learning process is to translate these into actionable takeaways that the business and IT commit to:
Practice the new behaviors (e.g. collaboration) and hold each other accountable (with feedback aimed at improving, not feedback as blame).
Respect and use the same language as our customers, using business goals, drivers, and business terminology and avoiding too much 'technobabble.'
Define the value streams for the different types of work and think about value stream owners who ensure effective prioritization mechanisms (governance).
Focus on creating and retaining TRUST by demonstrating CREDIBILITY (measure our performance in business terms) – understand and prioritize what impacts business reputation.
Align IT goals to business goals for the business change program and BAU demands. Ensure we have effective governance (prioritization and decision making) and visibility (to be able to make fast decisions (Evaluate, Direct, Monitor).
Categorize opportunities and demands against VC+VL+VI (Value Creation + Value Leakage + Value Improvement). 'If we do not ensure that continual improvement is a core capability we will NOT be able to improve the amount, the speed, and quality needed by the business to enable the business transformation.'
Co-ownership of priorities. (IT needs to be able to prioritize problems and improvements that prevent Value Leakage and improve the ability for more Value Creation, but must develop better business knowledge to justify these improvements).
Adopt the concept of standard, pre-approved changes. So that scarce skills and resources focus on more Value Creation work.
Explore more at the 'automate' side of 'optimize and automate.' Automate manual activities, reduce toil, and automate to improve velocity.
Utilize vendor capabilities more. Look more for partnership. Explore emerging technologies to optimize and automate to deliver value for both us and the vendor. Exploit problem management to reduce repeat issues and waste and identify areas for improvement.
Expand the service desk capabilities for first call, request fulfillment, self-service, and pre-authorized changes to enable specialist teams to work on more Value Creation demands and opportunities that enable the business change.
Improve testing. Look at 'Test-Driven Development' and foster a culture of 'first time right,' 'never pass a defect downstream,' and 'build quality in at source' to minimize the Value Leakage. These must also be behaviors we practice and give feedback on.
Apply continual improvement – 'This flip-over represents our first visual list of improvements agreed by the end-to-end stakeholders' (collaborate and promote visibility). 'We will prioritize together with the business'(progress iteratively with feedback, focus on value).
At the end of the day, nobody was saying that ITIL4 is too abstract, and too high level, nobody was saying we need to wait for the next set of training and certificates before we can start, ALL agreed a practical, pragmatic adoption of ITIL4 principles and the SVS to co-create with the business a continual improvement capability with a renewed focus on value and a recognized need to collaborate and promote visibility.
'It sounds more like common sense' said one, 'Yes, then why aren't we already doing it?' said another.
If you liked this ITIL4 article, the following ITIL4 articles might also be of interest.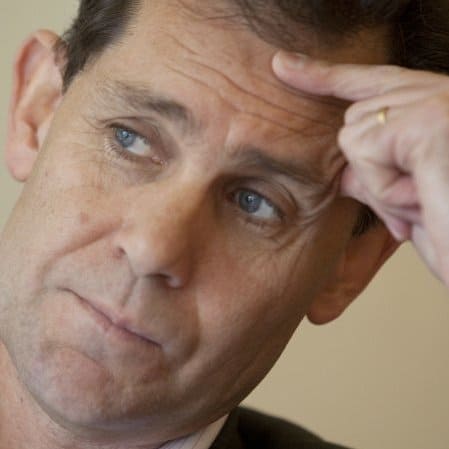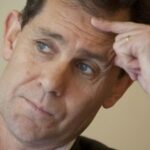 Paul Wilkinson has been involved in the IT industry for more than 25 years and has a broad background in IT operations, IT management, and product innovation and development. He was project team lead in the original BITE (Business & IT Excellence) process modeling of ITIL, an ITIL V2 author, and member of the ITIL V3 advisory group.
He is co-owner of GamingWorks and co-developer of a range of business simulations focusing on IT service management, project management, business process management, business and IT alignment, alliance management and co-author and developer of the ABC of ICT products and publications.